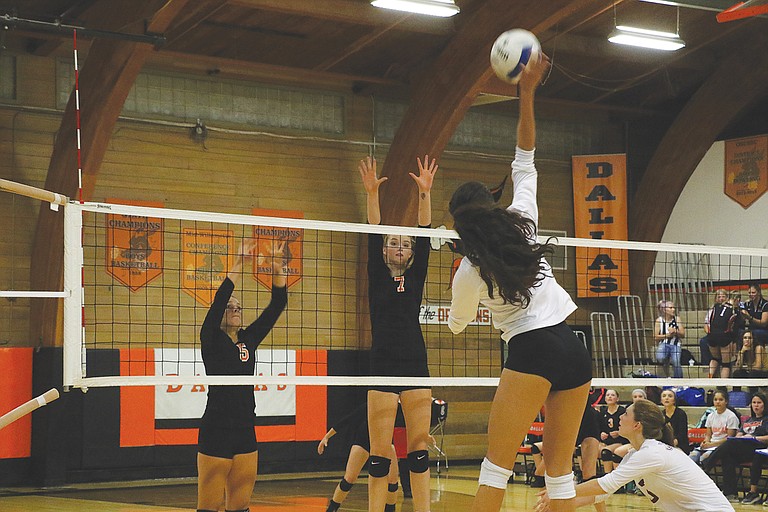 Wednesday, September 13, 2017
/lk
DALLAS — For two of the three sets against Crescent Valley on Thursday, Dallas' volleyball team went point-for-point with the Raiders.
Too many self-inflicted proved to be the Dragons undoing in a 25-14, 27-25, 25-23 loss.
"We didn't pass the ball well," coach Shana Lavier said. "It's a mental game. The girls just need to have confidence in themselves. We're in a tough league. There's no one that's easy to put away. They'll get there."
Dallas (2-3 overall, 0-2 Mid-Willamette Conference), which also lost to Lebanon on Sept. 5, showed the good and the bad.
The good — the Dragons put themselves in a position to win and the bad — seeing costly errors lead to a loss.
"It was a good match and hard-fought," Lavier said. "Give it up to Crescent Valley. They put the ball away when they had to and we had too many unforced errors. … We have to stay disciplined on defense and on offense, not put five balls into the net in the last set."
The key will be making sure they are ready to take advantage of opportunities.
"We definitely never gave up," Emma Classen said. "We just need to keep working and come together more. … Our practices go well. I think we get a little scared at the start of a game. We have to learn to relax."
Lavier said she's seen several players step up, but finding that on a consistent basis remains a challenge.
"We definitely have the talent," Classen said. "We just need to put it all together."
Dallas played Corvallis Tuesday after press time. The Dragons play at Silverton Thursday at 6 p.m. before hosting the Dallas Tournament Saturday starting at 8 a.m. Dallas also hosts Central Tuesday at 6 p.m.
"My hitters can go up against anybody in this league," Lavier said. "When they're off, they have to find a way to put the ball in play."