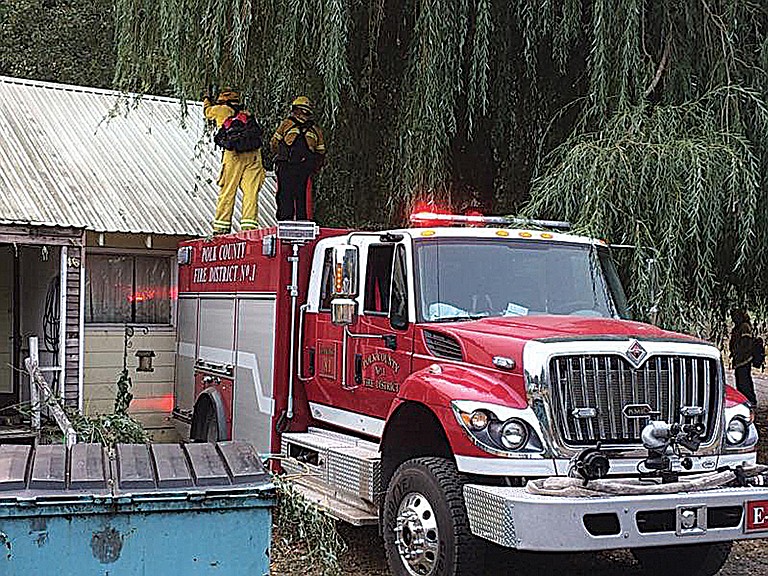 Wednesday, September 13, 2017
/lk
POLK COUNTY — Polk Fire Capt. Mike Kissell and members of Dallas Fire & EMS, Southwestern Polk Rural Fire Protection District, Sheridan Fire and McMinnville Fire worked all night battling the blaze at the Eagle Creek Fire on Monday, Sept. 4.
"We worked from 8 p.m. until Tuesday (Sept. 5)," Kissell said from the scene on Friday. "Monday night when we arrived, we had active fire pushing some structures in a small community outside of Cascade Locks, and we did point protection and fire attack to stop the fire's growth into that community."
How the Red Cross is helping
The American Red Cross in Oregon and Southwest Washington continue to help people evacuated from their homes because of the Eagle Creek Fire.
Red Cross responders are operating two wildfire relief shelters and providing food, water, shelter, health services and emotional support for about 170 people, according to a release from the Red Cross.
As of Sunday, the Red Cross had distributed 7,683 meals and snacks at the two shelters – in Gresham and in Stevenson -- since the start of the relief operations last week.
The shelter at Mount Hood Community College relocated to Harvest Christian Church, 624 SW Halsey, Troutdale on Tuesday morning. As of Sunday night, 24 people sought refuge at the Red cross shelter in Gresham; 14 people slept inside the shelter and another 10 stayed in recreational vehicles outside the shelter, eating meals, using shower facilities, and housing animals at the shelter.
At the Skamania County Fairgrounds Hedgewald Center, in Stevenson, Wash., 146 people sought refuge, with 22 people sleeping inside the shelter and another 124 staying in RVs in the parking lot.
For more information: 1-800-733-2767, or redcross.org.
The Polk-Yamhill task force has since been assigned to structural triage, Kissell said. The firefighters have been spending time assessing properties' strengths and weaknesses in a fire sustainability situation.
Eagle Creek Fire details
What caused it: Humans.
When it started: Sept. 2.
Where it's located: One mile south of Cascade Locks.
Total personnel (as of Tuesday): 905.
Size (as of Tuesday): 35,588 acres.
Perimeter contained (as of Tuesday): 11percent.
Estimated containment date: Sept. 30
Source: inciweb.nwcg.gov.
Chetco Bar Fire details
Cause: Lightning.
When it started: July 12.
Where it's located: Kalmiopsis Wilderness, Chetco River corridor, Illinois River Valley.
Total personnel (as of Tuesday): 1,538.
Size (as of Tuesday): 184,292 acres.
Perimeter contained (as of Tuesday): 8 percent.
Estimated containment date: Oct. 15
Source: inciweb.nwcg.gov.
"We develop a plan to prepare that house better to survive a fire front well in advance," Kissell said.
That entails anything from removing vegetation from around the house to blowing leaves and rubbish off the rooftops to cleaning out gutters to trimming overhanging tree branches.
"If they leave the houses unlocked, we'll make sure the windows are closed, vents are closed, and prepare that building to withstand a fast-moving fire coming through," Kissell said. "We can't completely protect from a hot, slow-moving fire, but we prepare … as best we can."
Kissell has spent more time in the past few weeks away fighting fires elsewhere in the state than he has in Polk County, said Polk County Fire District No. 1 Chief Ben Stange. He started his deployment to the Chetco Bar Fire just before the Great American Eclipse weekend at the end of August.
Dallas Fire and Southwestern Polk also sent crews, Fire Chief Fred Hertel and equipment to fight the fires.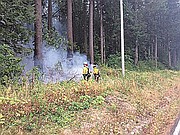 Dallas Fire spokeswoman April Welsh said Dallas and Southwestern responded when the state put out the call for help with the Chetco Bar Fire.
Dallas and Polk firefighters, and volunteers from Southwestern and Polk took that trip. The state requires all firefighters working a forest fire to have their wildland fire certification.
"We sent a Southwestern engine and Southwestern tender to the Chetco Bar fire during the week of the eclipse," Welsh said.
Stange said the crew worked on a lot of structure protection, including helping people make defensible space around their homes.
The equipment and the firefighters returned from Brookings, but then Hertel was requested to be part of an incident management team directing the fire attack.
"While he was gone, the fire in the gorge at Eagle Creek erupted," Welsh said.
That fire also needed statewide resources.
On Sept. 3, Southwest ern Polk sent a brush rig and tender to the gorge, along with three firefighters. A Polk No. 1 firefighter went with Dallas and Southwest and joined with a team from Yamhill County.
Firefighters were expected to return on Tuesday.
Welsh said weather conditions late last week were improving.
"Our firefighters said temperatures are much cooler and there hasn't been much wind," Welsh said. "The winds have been cooperative."
Stange said that the Eagle Creek fire has been humbling.
"It's an impressive jump over the Columbia (River)," he said. "In the Northwest, there is not a bigger fire break, having the river and the freeways. We're not going to replicate anything that big. So if it can make it over that, it's a humbling thought."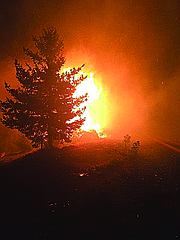 The Polk-Yamhill task force is one of 22 across the state working on the wildfires.
Dallas' assistance went further than sending crews and equipment. The department also assisted with training the week of Sept. 2 for National Guard units who are responding to fires across the state.
"It was really exciting to have our firefighters involved in training the National guard," Welsh said. "They trained 150 National Guardsmen that weekend."
For all the assistance Dallas is sending to fires across the state during what Welsh calls "a terrible fire season," Dallas hasn't neglected their main mission. She said having paid firefighters during fire season has enabled the department to lend a hand elsewhere.
"We still have resources available here," Welsh said. "We have two paid firefighters. They will be working until the other crew returns. We haven't left our area unprotected at all."
Kissell said the firefighters are in good spirits.
"Here's the thing about firefighters: We enjoy doing what we do," he said. "Out here, we're face to face with a lot of citizens. We're trying to alleviate their fears. It's very grueling work for long hours every day, but we're doing something that we love and to make the situation better. Ultimately, we'd prefer not to be here, because that means there's no fire affecting the community."