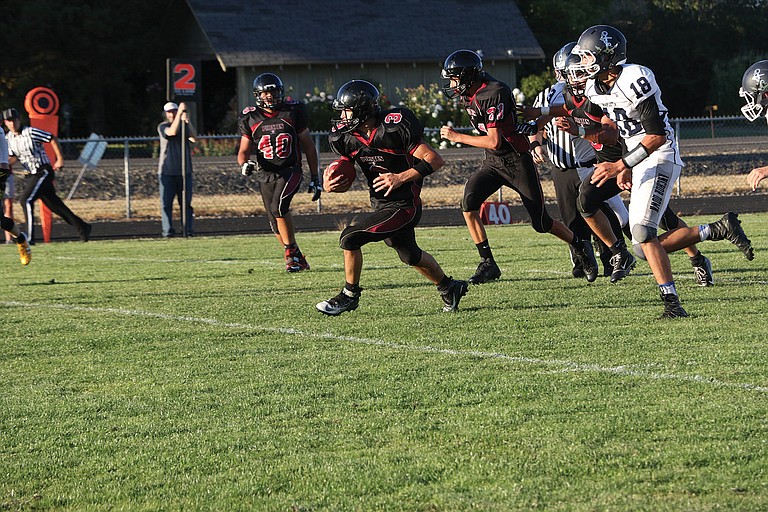 Wednesday, September 6, 2017
/lk
PERRYDALE — Almost from the opening snap, one thing was clear during Perrydale's football game against Mapleton.
This was going to be one exciting game.
"It was a battle, for sure," senior Cooper Butler said. "We were going blow for blow on offense."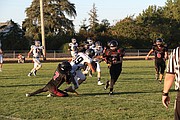 The Pirates and Sailors traded leads six times before Perrydale secured a 52-42 victory on Thursday.
Butler scored three touchdowns, including a 61-yard touchdown run in the first quarter and a 50-yard touchdown run in the third quarter.
"Cooper was running like a man possessed," coach Steve Mabry said. "He's our saving grace a little bit. If we need 3 yards, we're going to give him the ball."
Junior Randall Canfield scored three touchdowns and sophomore Josh Crawford scored two touchdowns.
Canfield, a transfer student, had never played high school football.
"It sou-nded fun, and it is fun," Canfield said. "I like it. We have good teammates, and it's a good opportunity to get out there and play some football."
Canfield showed speed and impressed coaches in his first outing.
"When Randall came out and said, 'I've never played high school football,' I said, 'that's OK, we'll teach you to play running back,'" Mabry said. "He's very instinctual. He starts slow, sees it and goes. He's got speed. In eight-man football, if you've got the speed to get around the edge, you're good. He's a physical kid and you're going to see him improve more and more."

Coupled with Butler, and the Pirates could have a scary one-two punch at running back.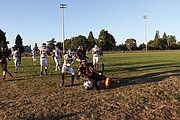 "I tell (Randall) that we have to be quick off the ball," Butler said. "We have to get that first step or that first block so we can hit that hole hard and keep up the speed."
While the Pirates' offense was rolling, the defense had an inconsistent effort. In the first half, Perrydale struggled at times with tackling and missed assignments. By the fourth quarter, the defense buttoned down.
"We didn't have a real good scouting report, but once we saw what Mapleton was running, we told the kids at the half, this is how we're going to fix it," Mabry said. "The couple big plays we gave up were just due to missed assignments, but we put a ton of pressure on them repeatedly."
The victory didn't come easy, but was a welcomed start for a team that has only three players with previous high school football experience, Mabry said.
"We only have three guys who have ever stepped onto the field before," Mabry said. "We have three or four freshmen contributing. That doesn't happen very often."
Perrydale hosts Lowell Friday at 7 p.m. Mabry hopes a season-opening victory will show the Pirates that they have the potential to make something special happen.
"The biggest thing is trust," Mabry said. "We're getting there. We have so many guys that want to play hard but don't want to make a mistake. We're trying to say making a mistake going at full speed isn't that big of a mistake."