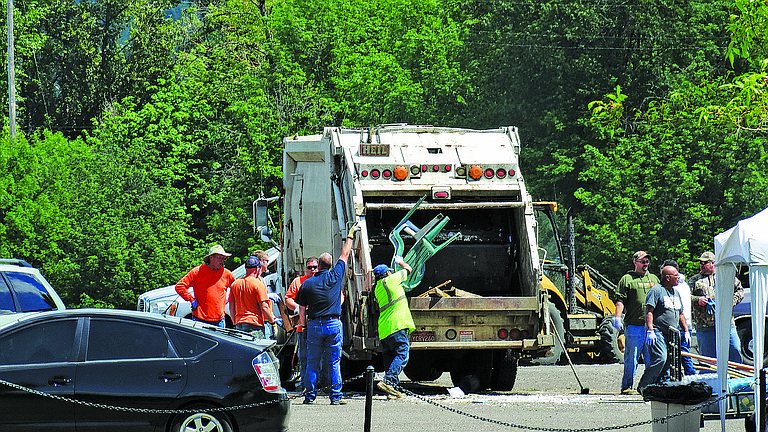 Wednesday, May 24, 2017
/lk
M-I Rotary selling strawberries by the bucket
POLK COUNTY — The Monmouth-Independence Rotary Club has started its annual strawberry fundraiser. Orders are due by June 8.
People may order fresh, cleaned, stemmed and sliced berries by phone or email, 503-838-6687 or strawberry@mirotaryclub.org.
Berries cost $50 for 30 pounds.
Exact date for pickup depends on weather. Pickup sites include Independence, Dallas or Corvallis. Proceeds go toward the club's youth programs.
Monmouth Police Department seeks reserves
MONMOUTH — The Monmouth Police Department is accepting applications for reserve police officers to augment full-time staff.
Successful candidates will attend the Mid-Valley Reserve Training Academy from November through May, and may obtain credit from Western Oregon University or Chemeketa Community College toward a degree. Minimum qualifications include: 21 years or older, high school diploma or GED, valid Oregon driver's license, and no criminal history.
For more information: www.ci.monmouth.or.us, or Officer Mike Hamilton, 503-838-1109
School supplies event needs donations
DALLAS — Dallas Family Night Out, the annual back-to-school supplies giveaway and resource event for Dallas-area students, is looking for donations, sponsors and organizations that would like to participate.
Last year, the event served almost 1,200 people with a free meal, activities and information about service providers. Students received 520 backpacks filled with the supplies they needed for their grade, with assistance from the Salvation Army's Tools for School program. Families had access to haircuts and clothing through Salt Creek Baptist Church and Jinett's Clothing Closet.
The 2017 event is scheduled for Aug. 25. To participate or to donate, contact Sheri Beehner at 503-623-8387, ext. 322 or sbeehner@wvpha.org.
Food Bank receives grant for renovation
DALLAS — Oregon Food Bank and Marion-Polk Food Share provided the Dallas Food Bank with a grant to remodel its facility into a "shopping-style format."
The food bank received $2,000 from OFB and $500 from MPFS. Money from the Dave McGuffey Memorial Fund, which was set up to benefit the Dallas Food Bank, will be used for the conversion as well, said Eddie Nelson, the assistant coordinator for the food bank.
"This format will allow the clients to participate in the selection the food they will use for their families. The amount is still dependent upon their family size," Nelson said. "The shopping style will speed up the time that a client is waiting at the food bank and allows the food bank to provide services to more clients in a shorter period of time."
The food bank will be closed June 9-13 to complete the remodel, which will remove a wall, install new carpeting, shelving and fixtures and apply a fresh coat of paint.
Committee approves Polk County budget
DALLAS — A $400,000 miscalculation on how much money the county will have at the end of this year could have meant cuts to the 2017-18 budget. But a decrease in insurance costs saved the day.
County Administrator Greg Hansen said he calculated $5.2 million would be left over, but the actual number looks closer to $4.8 million. At the same time, the county saw a 4 percent decrease in cost to one of its insurance providers, making up for most of the revenue decrease.
The combination of the two results in a $17,705 reduction to the county's contingency.
"I'm lucky that I didn't have to come back with a big revamp in that the health insurance worked in our favor," Hansen said.
Hansen also removed estimated proceeds from the facility maintenance bond, which failed May 16. That reduces the debt service fund by about $1.2 million, leaving it at $75,000.
The Polk County Budget Committee gave its final approval to the budget, and the Polk County Board of Commissioners is scheduled to vote on it next month.
Dallas VFW Post distributes poppies
MONMOUTH — The Dallas Veterans of Foreign Wars Post and its auxiliary will distribute Buddy Poppies at Bi-Mart in Monmouth on Thursday, Friday and Saturday for Memorial Day weekend.
The Buddy Poppy is symbolic of bloodshed in World War I. It is a reminder to honor those who served and died for the country in all wars.
It is also symbolic of veterans helping veterans. The local VFW and its auxiliary hand out more than 6,000 poppies a year.
Money collected from donations for poppies go to military assistance, veterans assistance, family assistance, and Oregon Veterans Homes. The majority of money donated stays in Polk County.
Rumsey named Indy officer of the year
INDEPENDENCE — Officer Nic Rumsey was named the Independence Police Department's Officer of the Year and was honored at the annual awards banquet on April 9.
Rumsey began his career as a reserve, volunteer police officer with IPD, and earned Reserve Officer of the Year honors in 2012 and 2013 before being hired as a full-time officer in 2014.
Rumsey led the department in arrests, and his work ethic and commitment were noted in his award. His current assignments include patrol, being a cadet advisor, and he is working toward becoming a drug recognition expert for driving under the influence of intoxicants enforcement.
Julio Navarro was named Reserve Officer of the Year. Joshua Mason was named Cadet of the Year.
More like this story