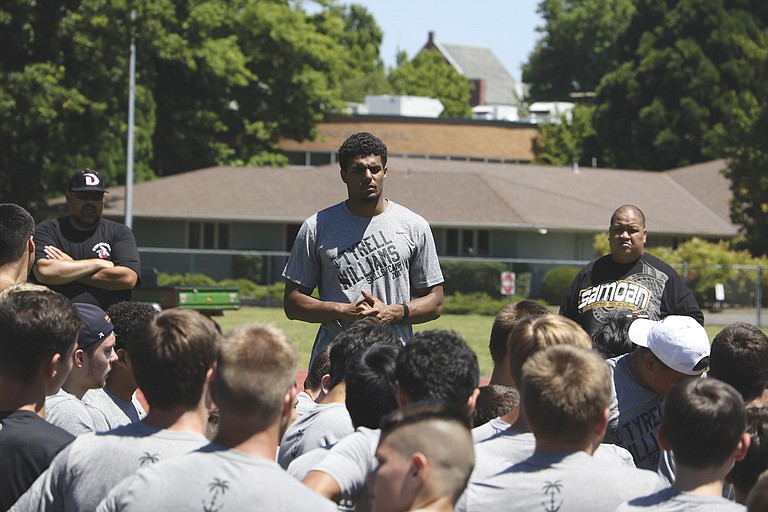 Wednesday, July 5, 2017
/lk
MONMOUTH — It was a situation former Western Oregon and current Los Angeles Chargers receiver Tyrell Williams had been in numerous times growing up: Standing in line, waiting for a chance to meet an NFL player.
"It definitely took me back," Williams said. "I remember waiting in line to get signatures after a football camp and just feeling that excitement."
This time, Williams wasn't the star-struck kid; he was the one kids waited to meet.
—
Williams held his first Offensive Skills Camp on Thursday at Western Oregon University with around 150 campers participating.
"It was good to be out in front of the kids," Williams said. "It was my first camp, and I just wanted everyone to have a fun time."
Williams, along with his father, WOU coaches and players, helped lead the four-hour camp, which included various drills.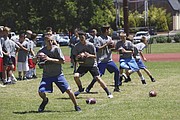 Afterward, Williams signed autographs and took photos with those in attendance.
For Anabel Galindo and her son, Marco, the camp was extra special.
The Galindos are lifelong Chargers fans, and the chance to take part in a camp run by the Chargers' leading receiver during the 2016-17 season was too good to pass up.
"We thought it was an awesome opportunity," Anabel said. "We're really thankful to have a big NFL person doing something like this."
For his part, Williams wanted to keep the focus on having fun.
"I wanted them to have a good time," he said. "I didn't want them standing around a lot and wanted to teach them as much as I can."
Those lessons varied from quarterbacks like Dallas High School sophomore Jarrett Brateng learning how to do a five-step drop to receivers learning how to run routes better.
But the most important lesson many left with was that where you start doesn't dictate where you'll finish.

"Seeing what Tyrell has done shows us that anything is possible," Brateng said.
Williams had his choice of places to hold his camp, whether in Oregon or California, but Monmouth was always his top choice, he said.
"It's awesome to come back to a small town," Williams said. "It's cool to be at a familiar place. I played here for a while, and it's a chance to give kids the opportunity to come to a camp without having to travel far."
The camp was also a break before the grind of a new NFL season.
"I plan to get a couple workouts in while I'm here, but also relax and meet up with some friends," Williams said.
After that, it's back to preparing for the fall — and the beginning of what Williams believes will be a breakout season.
"We've got to make the playoffs," Williams said. "We want to do as well as we can, and I'll do whatever I can to help the team."
But all that wasn't on his mind. His focus was on the kids and giving them a moment they'd never forget.
"To see Tyrell give back to kids with opportunities that he didn't necessarily have speaks a lot to his work ethic and him as a human being," WOU football coach Arne Ferguson said. "It doesn't get any better than Tyrell Williams."