Wednesday, August 30, 2017
/lk
POLK COUNTY — Harol Ramos Arnett, 23, was arrested on Aug. 23 for allegedly raping a 13-year-old girl between July 1 and Aug. 22.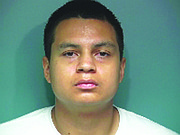 According to the probable cause statement filed with Polk County Circuit Court, Arnett was living with the girl and her mother in a detached garage. He approached the girl in an unwanted sexual way, the statement said.
Later, he asked the girl to help him with a dresser in the garage. He shut the door behind her, put his hand on her throat, and had unwelcome sexual intercourse with her. Arnett allegedly had unwanted sexual intercourse with the girl at least one other time.
He was arrested by Polk County Sheriff's deputies and charged with first-degree rape, second-degree rape, first-degree sodomy, strangulation, and first-degree sex abuse. He is lodged in the Polk County Jail. Security is set for $207,500. Arnett was appointed an attorney, Julio D. Vidrio. His trial is set for Oct. 13.