Wednesday, August 23, 2017
/lk
DALLAS — The man charged in fatal hit-and-run on Highway 22 in April will serve 12 years in prison.
Polk County Circuit Court Judge Monte Campbell sentenced Brenden James Duck, of McMinnville, on Aug. 16 in the death of James Osredkar.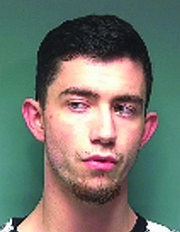 Duck, 19, pleaded guilty to second-degree manslaughter, failure to perform the duties of a driver to injured persons, unauthorized use of a motor vehicle, first-degree criminal mischief and possession of methamphetamine in Polk County Court, according to the Polk County District Attorney's Office. He will not be eligible for earned time or other programs that would reduce his sentence.
According to district attorney's office, Duck admitted to driving a stolen vehicle on Highway 22 near Kings Valley Highway when he drove into the oncoming lane, striking Osredkar who was riding his motorcycle after leaving work. The vehicle was later found, engulfed in flames, in the nearby town of Rickreall.
The case was prosecuted by the Polk County District Attorney's Office, and investigated by the Oregon State Police, the Polk County Sheriff's Office, the McMinnville Police, and the Yamhill County Interagency Narcotics Team.