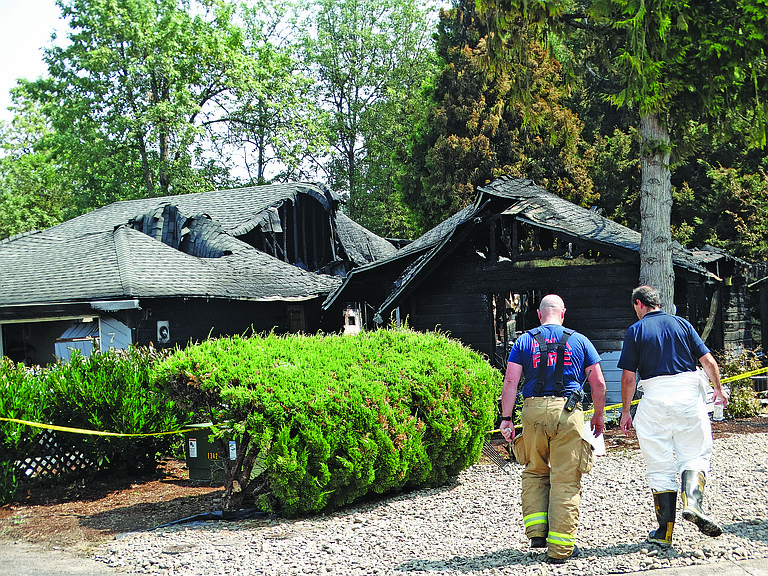 Wednesday, August 16, 2017
/lk
MONMOUTH — An 11-month-old boy died in a Monmouth house fire on Aug. 9.
Two adults, including his mother Natacia Abbe, along with two other children were able to evacuate.
The home in the 700 block of North Catron Street was heavily involved in fire when firefighters arrived, said Polk County Fire District No. 1 Deputy Chief Neal Olson.
The fire was electrical and started on or under the patio, Olson said.
"The most difficult part of this fire is that we believe it had been burning for quite some time prior to our notification," Olson said. "We believe it started on the patio, and then moved into the attic space through the vents and burned undetected for an unknown period of time. Once the occupant was alerted by the smoke alarm, the attic and patio were heavily involved."
Polk No. 1 was dispatched to the fire at 1:57 a.m. on Aug. 9. Thirty-two firefighters and support personnel responded, as well as several members of law enforcement from multiple agencies, Olson said.
The house had working smoke alarms, Olson said. The mother was awakened by the alarms and able to evacuate the other two children, which were not named by law enforcement.
"Unfortunately, the conditions inside the building changed drastically during the evacuation," Olson said.
Attempts to locate and rescue Sebastian Spencer, the 11-month-old boy, were unsuccessful. His body was found once the fire was extinguished, Olson said.
Two firefighters were injured in the attempts to rescue the 11-month-old boy, Sebastian, and to put out the fire. Both firefighters were treated for their injuries, Olson said.
"One has already returned to work, and the other should be back to work this weekend," Olson said Monday.
Two members of the Polk No. 1 board of directors asked Chief Ben Stange at Thursday's board meeting if there is better equipment that firefighters need to protect them from burns in the future.
Stange said all equipment meets industry standard.
"It's just a hazard of close proximity to a lot of heat," he said.
Stange said the mental health injuries sustained from this event were in a way more difficult than the burns suffered.
"Chaplain Steve Brodehl, who is the chaplain for the Hillsboro fire — he's a very revered chaplain — he came down last night and did the defusing with our folks," Stange said. "I'm pretty sure we had 100 percent of our folks come. Monmouth police officers were invited as well."
The employee assistance program was extended to all volunteer firefighters, Stange said.
"That's money well spent," he said. "I've had a chance to talk to everyone who was on scene, and it was a really difficult scene."
The Oregon State Fire Marshal's Office and Monmouth police are assisting in the investigation.
Dallas Fire & EMS, SW Polk RFPD, Salem Fire, Independence police and Polk County Sheriff's Office also assisted.
The structure and contents are a complete loss, estimated at $200,000, Olson said.
As of Tuesday morning's press time, a gofundme account, Help for Sebastian's Family, had garnered $7,605 in donations for the family.
The account was set up by his aunt and uncle, Robyn and Fletcher Howard,