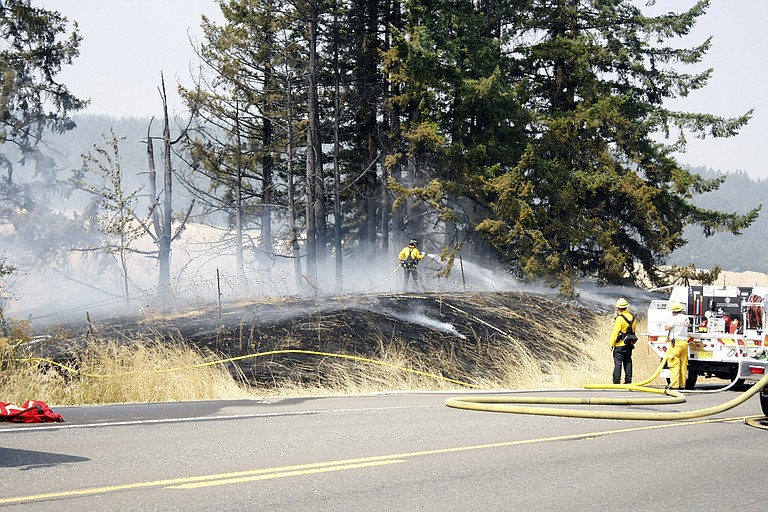 Wednesday, August 9, 2017
/lk
POLK COUNTY — Five acres burned in a field fire at Perrydale Road and Highway 22 on Thursday.
The fire was caused when a woman pulled to the side of the road with car troubles.
"She lost power in her vehicle," said April Welsh, spokeswoman for Dallas Fire & EMS. "Her engine stopped working. When she got out to see what was going on, she noticed smoke coming out of the ditch area."
The call came in to Southwestern Polk Fire District. Twenty-five firefighters worked to contain the blaze within 30 minutes, completely extinguishing it in about an hour and a half, Welsh said. The Oregon Department of Forestry, Sheridan Fire, Amity Fire, Polk Fire District No. 1, and Dallas Fire & EMS assisted Southwestern Polk at the scene.
The blazing hot temperatures and low humidity could have presented a problem for firefighters, Welsh said, but no firefighters were injured.
The heat "is bad for our firefighters, because it's going to create more of a dehydrating issue for them when they're out there working on these fires that are already hot," Welsh said. "They're going to lose a lot more fluid from their perspiration and the work effort they're putting into it. It's dangerous all around. It's dangerous for our community, and it's dangerous for our firefighters."
High temperatures for Thursday topped out at 103, breaking the record set in 1952 of 102.
The heat wave started on Aug. 1, with a high of 101, beating the previous record of 100 set in 2015, and didn't stop until Thursday.
Wednesday proved to be the hottest, coming in with a high of 107, shattering the previous record of 102 degrees set in 1939.
"We are nearing (becoming one of) the top 10 warmest summers on record," said David Bishop, meteorologist with the National Weather Service in Portland. "We're kind of in this weird tie as it stands right now … with the 2006 average and the 1985 average."
Oregon is getting into its summer systems, Bishop said, which is why temperatures are warmer. While the 107 on Aug. 2 was hot, it wasn't the hottest Polk County has seen.
"For your all-time high records, there was 108 that occurred in 1991; once in 1941, and once in 1927," he said.
Temperatures are expected to head back into the 90s, with the first day of the Polk County Fair on Thursday forecast in the high 80s.
A high-pressure system settling over the Pacific Northwest is what caused the heat wave, Bishop said.
"This high-pressure system is slowly moving out of our area, which is one reason we're seeing a slight dip in forecasted high temperatures," he said. "That does not mean there is not another system that will be the same, worse, or significantly weaker."
The summer has a long way to go to top the driest streak the Willamette Valley has seen. Right now, the record stands at 71 days without measurable rain, Bishop said.
The Salem area, where Polk County's records are kept, has gone 53 days without measurable rain.
"By measurable rain we mean at least 0.01 inches," Bishop said. "The last time you guys got rain was June 16."
With showers in the seven-day forecast, the chance to beat the 71-day dry streak is not likely, but a little precipitation won't reduce the fire hazard much, Welsh said.
"When we do finally get some rain and cool down, we still want to remind people to be vigilant about fire danger," she said. Light rain "won't take us out of any kind of burn ban or high warning."
Fire season typically lasts through October, Welsh said.
"We're still being precautious," she said. "Please don't burn. Don't drive on unimproved roads and in fields."
Welsh said people have tried to put out their own fires with garden hoses, but said she would rather people dial 911 right away to keep themselves, others and property out of harms way.
"I know that they mean well, but we don't want them to get hurt or put their home in danger or themselves in danger — or anyone else," she said. "We have more equipment. We have more water."
As for the smoky haze that has lingered in the area, that has been mainly from fires in British Columbia, Canada, Bishop said, as well as the Whitewater Fire near Mount Jefferson.