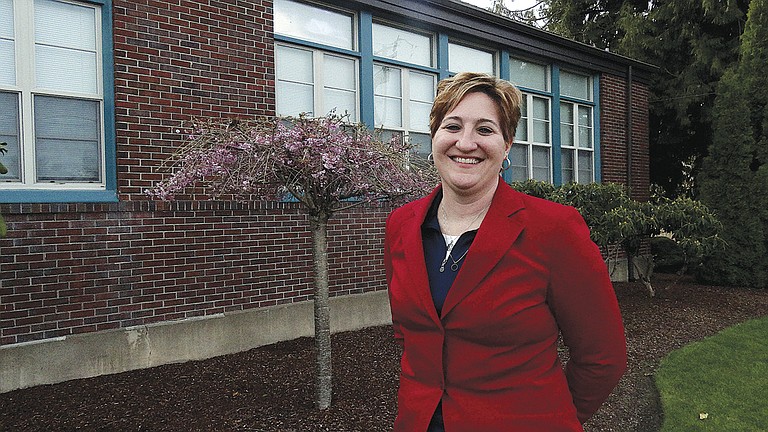 Wednesday, April 5, 2017
/lk
INDEPENDENCE — Jennifer Kubista is not the type of person to jump for the sake of jumping.
So when she heard from her search agent that a "gem of a district" was looking for a superintendent, she did her own snooping.
"I came down and literally walked all the schools," Kubista said. "It was pouring down rain that whole day. We're with umbrellas, looking into windows, looking at classrooms. I just wanted to see. You can tell a lot just seeing into the buildings."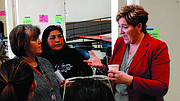 It was the same day Central High School hosted the state thespian competitions, so Kubista was able to tour around the entire high school — and enjoy performances from students.
She walked through Monmouth, Independence, and toured Western Oregon University.
"I asked questions, 'What's great about this town,'" Kubista said. "A lot of people said people work hard here. They've had some difficult times, but even during difficult times, they pull together. It's a very inclusive environment for both towns, welcoming to everyone."
She said she heard that same message over and over again and decided to put her application for Central School District's next superintendent. On Monday, the board approved her contract. She starts the job in July, after Buzz Brazeau retires at the end of June.
Kubista grew up in Tacoma, Wash., and, when she started her education, planned on working toward being a college athletics director.
"I have always enjoyed coaching," she said. "Coaching is teaching. That's just been with me for forever. When I started to see more on the administrative side that it was more of a business rather than what I'm going to call a teaching and learning environment — it was for our athletes, but as I looked at administration, I didn't know if I wanted to do that."
Kubista kept ties in Tacoma, where her family is filled with educators. Her mom was a teacher in Tacoma for 30 years, and her identical twin sister was a teacher for 10 years there before becoming a building principal for the last eight years.
After finishing her undergraduate work, she completed an internship for the Tacoma School District, working with Title IV as it relates to athletics. In 2000, she moved back to the Northwest for good and became the Commissioner of the Columbia Empire Volleyball Association in Beaverton.
"I was down here for two and a half years and loved it," Kubista said. "I have met some really great people in the Oregon area — really, it's the entire state of Oregon that I was involved with. I have made some good connections, and kept those connections even though I've been in Tacoma the last 15 years."
For Kubista, it's all about making connections.
"I need to build relationships from my board to our district staff to our principals to our teachers to our classified staff to our community members," she said. "I'm a big relationship person first and foremost. Where do we align? Where do we all have the same vision, and where maybe would we be different? And how do we work together from there."
Kubista built Tacoma's Whole Child initiative from the ground up — with the help of her staff and trusted colleagues.
The Whole Child initiative focuses on student success academically, socially and emotionally, Kubista said.
"They're already doing some of that here," she said. "That's part of what intrigued me as I was reviewing websites."
Kubista believes in putting students first, constantly asking the question how to do right by kids so they can be successful. Part of the Whole Child initiative was about removing barriers for principals and teachers and students, she added.
"My job is to help us figure out, how do we make it better for kids and teachers and our community, so students are successful," Kubista said. "The day we open for them, beginning in elementary and working through graduation, where they are going to put themselves in a position whether they know an idea of a career they want to go into, or have applied to community college or a four-year college, whatever they want to get into, that we have paved those paths."
After spending a day in Central School District as part of the interview process, Kubista said she enjoyed meeting everyone and walking through the buildings, watching students and teachers working really hard.
"There's some great instructional things going on," she said. "I got to see some things that I'm very excited to be a part of."
Kubista remains a lover of all things athletics — particularly volleyball — and coaches two volleyball teams to girls ranging in age from 7 to 11.
"Volleyball is my passion," she said. "I've been honored for the last two years to work for the Pac-12 as an officials observer for volleyball."
When she works for the Pac-12, she is paired with three other officials — none of whom she has worked with before — and they are sent to officiate the top teams in the country.
"It's fun to see how you team, and how leadership works in that way, when you're put together really quickly and do a top match and work together," Kubista said. "For me, there's a leadership capacity that goes with that. Working with people you've never worked with, adapt, still get the calls right, making sure the kids are on the court."
Kubista's family tops the list of priorities, and she enjoys spending time with them, camping, hiking and being outdoors.
"I'm very much about finding whatever you want to get into, and go enjoy it," she said.