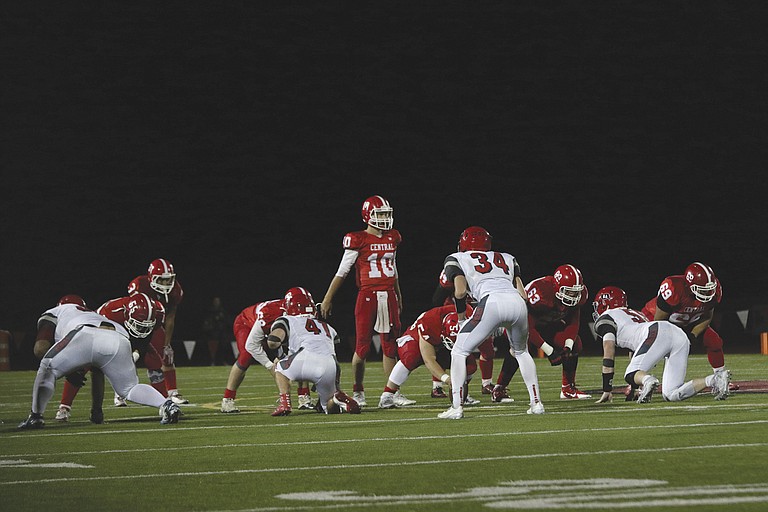 Wednesday, September 28, 2016
/lk
INDEPENDENCE — Central's football team went on an air raid against South Albany on Friday — and the team's two Peters led the charge.
Quarterback Peter Mendazona threw for 294 yards and five touchdowns, while receiver Peter Mason had five catches for 119 yards and two touchdowns – the latest success in what has become a dynamic duo for the Panthers offense.
—
Mendazona, a junior, is off to a strong start in 2016. He has thrown for 929 yards, 13 touchdowns and no interceptions and has hit six different receivers for touchdowns.

"It's definitely fun," Mendazona said. "Peter Mason is one of those weapons. Isaiah Abraham is on the other side. They make my job really easy."
But among his numerous weapons, one has emerged as his favorite: Mason.
The senior receiver has 26 catches for 504 yards and six touchdowns.
"He's just really reliable," Mendazona said. "I know if I throw a 50-50 ball, he's going to get it almost 100 percent of the time. He has great speed. He's the most reliable receiver I've ever had, really."
Just as important as Mason's speed and hands, is Mendazona's evolution as a quarterback beyond just being able to make all the throws asked of him.
"Last season, the first few games you saw a little of the jitters," Mason said. "This season so far, he's shown his maturity. If we make a mistake, he says I don't care, we are coming back. A leader like that helps the whole team, not just the receivers."

Mendazona, Mason and others on the offense kept working during the offseason. That work is beginning to pay off for the Panthers.
"A lot of our chemistry developed last year," Mason said. "This year, it's about getting the finer details down like how if you throw it high, I'll chase the ball down. If you throw it low, it's going to be a little tougher. I trust that if I'm open, he'll give me a chance at the ball."
While Mendazona and Mason have formed a formidable aerial attack, Central can also pound it out on the ground — opening up even more opportunities for the pass game.
"We're not scared of handing the ball off," Mason said. "We know we can get five to seven yards each carry. That can set up a play action here and there and make the cornerbacks make a choice whether they think it's a run or pass. It's great."
Ahead of a showdown with Dallas on Friday, the biggest issue facing the Panthers (2-2 overall, 1-0 Mid-Willamette Conference) is consistency. Central built a 35-14 lead over South Albany with 3:23 left in the third quarter before having to hold off the Rebels to win by seven, not clinching the victory until stopping a potential game-tying drive with less than a minute left in the game.
"We have to keep our heads up and do it over and over again so we can blow teams out and not make it this close," Mendazona said.