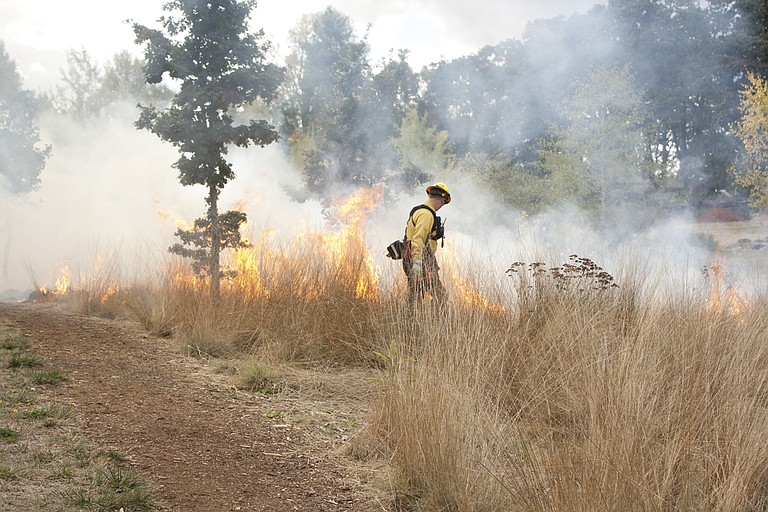 Wednesday, September 28, 2016
/lk
DALLAS — Dale Derouin is hoping fire brings renewal.
A volunteer for the Delbert Hunter Arboretum, Derouin decided to experiment in the arboretum's meadow section. Planted there are a number of native bunch grasses that in former centuries would have covered the Willamette Valley.
Derouin's idea is to burn it to see if it comes back stronger in the spring.
His suggestion has a basis in history. Native Americans used to burn meadows in the valley for the same purpose, he said.
"I expect the grasses will regenerate," Derouin said. "I'm assuming most of them will come back because they developed under this regime."
According to his research, Native Americans noticed that plants flourished in areas of the valley that had burned in natural fires. The result was better hunting and a healthier ecosystem.
"They thought, we don't have to wait for nature to set the fire," he said.
Part of the mission of the arboretum is telling the history of the area through plant displays and volunteers thought adding a traditional practice would further that mission.
To make sure it was safely done, the arboretum needed assistance from the Dallas Fire Department.
Derouin said he didn't know if the city would be interested in such an experiment, but he was pleasantly surprised.
April Welsh, Dallas fire spokeswoman, said the burn helps both volunteer organizations — the arboretum with testing the theory and the department with training.
"Anytime we get to work with another organization, especially another volunteer organization, we will always make that happen," Welsh said.
The controlled burn took place on Thursday, with arboretum volunteers and onlookers there to watch.
Both fire department officials and arboretum volunteers are curious about how the experiment will turn out.
"We want to try that and see what happens," Derouin said.
For more photos of the process, www.polkio.com.