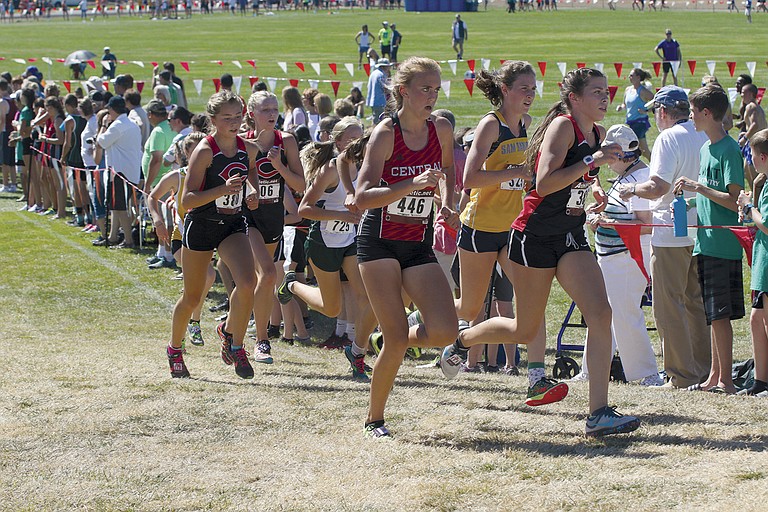 Wednesday, September 14, 2016
/lk
MONMOUTH — Central junior Bailie Hartford led the Panthers' girls cross-country team to an 11th-place finish at the Ash Creek Cross-Country Festival on Saturday. Hartford finished 19th in the 5,000-meter run with a time of 20 minutes, 6.2 seconds. Beatriz Trujillo (88th, 22:36.1), Diana Nye (101st, 23:09.0), Bethanie Altamirano (132nd, 24:03.7) and Naomi Vega (144th, 24:28.1) rounded out the team's scorers.
The boys team finished 14th. Zachary Meyer took 68th in 18:06.3. Mat Raines (87th, 18:24.5), Jaydon Aydelotte (90th, 18:26.9), Josh Dickson (100th, 18:30.9) and Jonathon Brown (111th, 18:45.2) also scored for the Panthers.
Central will compete at the Silver Falls Oktoberfest Invitational Wednesday (today) at 4 p.m. The Panthers will take part in the Mid-Willamette Conference District Preview meet at Willamette Mission State Park in Brooks on Sept. 21.
FOOTBALL FALLS TO MOUNTAIN VIEW: Central's football team lost to Mountain View 24-14 on Friday. Mountain View built a 14-0 lead before a touchdown pass from Peter Mendazona to Peter Mason early in the second quarter cut it to 14-7. Mountain View scored just before half to take a 21-7 lead into the break.
Mendazona hit AJ Morales for a 6-yard touchdown pass in the third quarter to pull the Panthers within 21-14, but the Cougars responded with a nine-minute drive that resulted in a field goal.
"The Cougars' grind-it-out style limited us to 40 offensive snaps," coach Shane Hedrick said. "We gave up a few big plays in the first quarter to a hard-nosed Mountain View team."
Mason ended the game with three catches for 57 yards and a touchdown. Running back Alvin Berroa gained 55 yards.
Morales also had 15 tackles on defense. Marlon Tuipulotu had eight tackles.
Central closes out nonleague play at Glencoe Friday at 7 p.m. The game will be held at Hare Field.
GIRLS SOCCER LOSES TO McNARY: Central's girls soccer team fell to McNary 5-1 on Sept. 6. The Panthers trailed 4-0 at the half, before scoring early in the second half to avoid the shutout. Central fell to 0-1-1 overall. The Panthers played North Marion Tuesday after press time. Central hosts Cascade Thursday at 4 p.m.

BOYS SOCCER MATCH  CANCELED: Central's boys soccer team's match against McNary on Sept. 6 was canceled due to a lack of officials. The Panthers played North Marion Tuesday after press time. Central plays at Cascade Thursday at 4 p.m.
More like this story