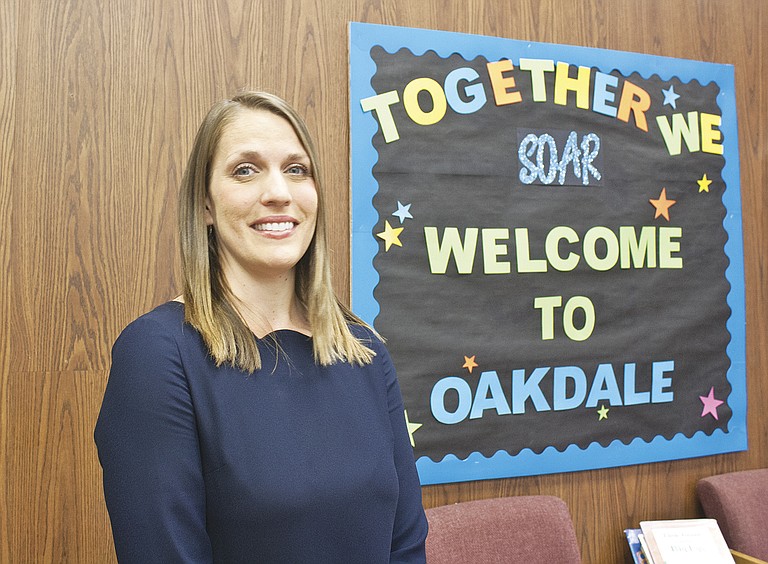 Wednesday, September 7, 2016
/lk
DALLAS — Maria Drennen has a brick in her office at Oakdale Heights Elementary School.
The heavy red brick reminds Drennen, the school's new principal, how important the grades Oakdale teaches — kindergarten through third — are to a child's educational future.
Drennen, whose former job was as a middle school counselor in the McMinnville School District, said the early elementary grades are the foundation.
"This is the age when you begin patterns. When I worked in the middle school, and you had a student who had missed 30, 40 days, you could pull their file and say, this started in kindergarten," she said. "We really think of these as the foundational years. So I've given each staff member a brick to symbolize that this is the foundation."
Maria Drennen's first-year goals
• Improve attendance.
• Get to know each family and child by name.
• Begin "service days" for all students as a chance to contribute to the community.
• Provide leadership opportunities for Oakdale staff members.
Her assignment to her staff was to find three words that describe why they are educators and paint them on the brick. She already knows hers: "Uplift the heart."
"It's very important to me that people feel loved and competent, because when they feel those two things, their confidence soars and good things happen," Drennen said.
She wasn't long beyond those "foundational years" when she discovered education would be her career.
"I've known I wanted to be a teacher since I was in sixth grade," she said. "I was a teacher's aide."
She spent the remainder of her middle and high school years gaining as much experience in the field as she could. Drennen didn't have any second thoughts going into college — nor has she since.
"Watching a child learn something that you've helped them with, I think that is the greatest feeling for a teacher — to be a part of that, like you're sharing in their journey," Drennen said. "That is a gift to us."
For her, moving from teacher or counselor to principal means she can influence the education of more students.
"At some point in my counseling career I wanted to have that greater impact," she said. "I felt I had the right beliefs and values to do this role with care."
A native of the small Washington coast town of Grayland, Drennen saw Dallas not only as a place to jump into administration, but as a place make a future with her son Brody.
"It's always been important to me to work, eventually, in a small community, to kind of put roots down," she said. "I have a 4-year-old son, so I wanted to get settled in one community to raise him in the same community within the schools."
Drennen said her focus in the first year is to get to know her students and families. She spent the first day of school at the front door, greeting students as they arrived.
She said she will work to improve attendance this year and implement "service days."
"Options for all of our kids, K-3, to get out in the community — to own this community because it is theirs — and find ways that they can give back," she said.
She's excited help with the district's first year of integrating Project Lead the Way science and math curriculum into classes and to work with Oakdale's staff.
She found in the results of a buildingwide survey that Oakdale's teachers share her goals: providing a safe and nurturing environment and offering students a quality education.
"I thought, I'm in the right place," she said.