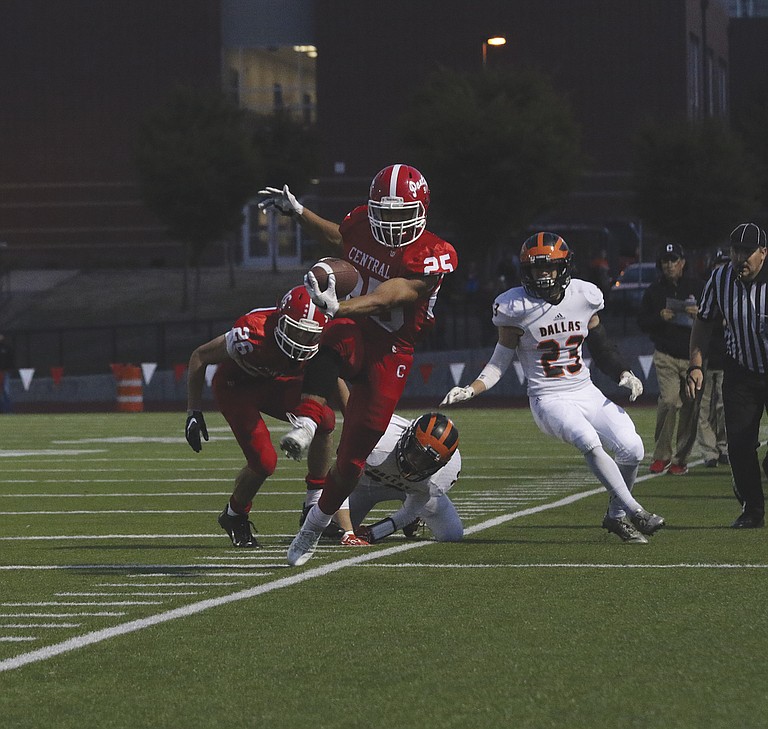 Wednesday, October 5, 2016
/lk
INDEPENDENCE — Andrew Reyna has never been the player in the spotlight for Central.
The senior running back has spent much of his career as a backup, but on Friday, he would get his chance.
The Panthers led Dallas 14-12 late in the third quarter. Central, already without starters Marlon Tuipulotu (who did not dress for the game), Isaiah Abraham and Alvin Berroa (who both got hurt during the game), was threatening to score, with the ball on the Dragons' 10.
Reyna was ready for his moment.

"I saw green ahead of me and I knew I had to just run straight ahead," he said.
Reyna scored from 10 yards out on what proved to be the difference maker as Central held on for a 21-20 win on Homecoming night.

"I never usually get in on offense," Reyna said. "I was so excited. It's an amazing feeling for me."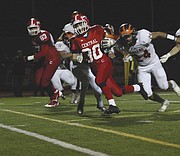 Quarterback Peter Mendazona threw for a touchdown to Abraham, who was injured on the play, on the game's first drive. Dallas responded with a pair of touchdowns — but a missed extra point and two-point conversion meant the Dragons took a 12-7 lead into the break.
Mendazona also rushed for a touchdown in the third quarter to give the Panthers the lead for good at 14-12, and Reyna's touchdown put the Panthers up 21-12 entering the fourth quarter.
A week after seeing the defense hold off South Albany from a potential-game tying score, it was the offense's turn on Friday. After Dallas pulled to within 21-20, the Panthers offense took the field with 6:32 left in the game.
Central made sure Dallas never got the ball back.

"It's awesome," Mendazona said. "Beating Dallas is one of the best feelings in the world. To be this close on Homecoming night, it was so much fun. Our whole team is electric."
The win didn't come easily, but the Panthers, who have now won three games in a row, showed a few injuries wouldn't deny them a victory.
"That was a good ball game right there," coach Shane Hedrick said. "I tip my hat off to Dallas. They fought incredibly hard and were well-coached. I'm especially pleased with our players. We had kids stepping up and making plays. I thought defensively we played well, and offensively, down 12-7 in the second half to be able to score and take the lead, I thought those were good answers."
Central (3-2 overall, 2-0 Mid-Willamette Conference) plays at Crescent Valley on Friday. The Raiders present a much different challenge to the Panthers. Crescent Valley quarterback Talanoa Hufanga has thrown for 846 yards and seven touchdowns, while also rushing for 601 yards and 15 touchdowns so far this season.
"They've got a good guy at quarterback," Mendazona said. "We have to contain him. The defense had a tough job this week, but they'll have another tough job next week."
But tackling that challenge could wait — at least for a night. On Friday, the Panthers were all smiles.
"It was an amazing experience for my last year at Central," Reyna said. "Beating Dallas has always been one of our top priorities, and we did it."