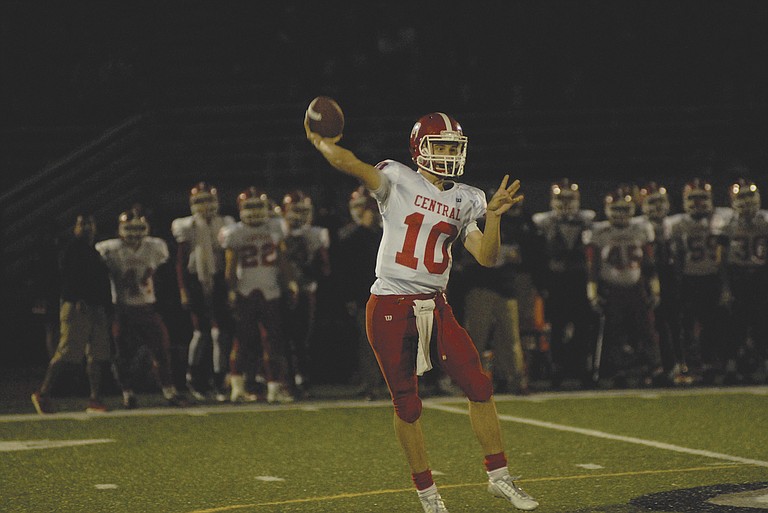 Wednesday, November 9, 2016
/lk
SANDY — Central's football team is coming home for one last home game after a convincing victory on Friday.
No. 11 Central defeated No. 6 Sandy 38-7 in the first round of the OSAA 5A state playoffs.
"We finally had some healthy kids come back," coach Shane Hedrick said. "That allowed other players to go back to their normal positions where you have a tendency to react quicker and play quicker. When you have an injury, it affects more than one person. You have lots of people moving positions."
Class 5A State Football
Who: No. 14 Redmond (6-4 overall, 5-2 Special District 1) at No. 11 Central (6-4 overall, 4-2 Mid-Willamette Conference).
What: Class 5A football, quarterfinals.
When: Friday, 7 p.m.
Where: Central High School.
Admission: Adults, $6; students, $4.
What's at stake: The winner advances to the state semifinals against the winner of No. 7 St. Helens vs. No. 2 Wilsonville Nov. 18-19.
Quarterback Peter Mendazona threw for 219 yards and four touchdowns. Mendazona hit three different receivers for scores: Andrew Barry (two), AJ Morales and Peter Mason.
Veterans
• All veterans are welcome to attend Central's game against Redmond free of charge.
• Veterans will be recognized at the 50-yard line prior to the game.
• Contact Central High School at 503-606-2228 for more information.
Morales also ran for 133 yards and a score.
Jesse Cable had 10 tackles on defense, while Isaiah Abraham, Marlon Tuipulotu and Sam Crow recorded one sack each as Central shut out Sandy over the final three quarters.
"I think one thing is when you get to the postseason you want to see your guys really start coming together," Hedrick said. "I think we started seeing that the last couple games of the regular season and really proved that point on Friday."
The Panthers' were rewarded with one last home game of the season.
Central will host No. 14 Redmond in the quarterfinals Friday at 7 p.m.
Redmond defeated No. 3 Silverton 35-27 on Friday to advance.
"It's kind of funny, we hadn't even left the field yet and, with social media the way it is today, people were telling us Silverton was up by one or down by one," Hedrick said. "I thought, let me celebrate this victory for a moment, but it will certainly be nice to play at home and have our home crowd."
Redmond poses a difficult challenge, with an offense that aims to confuse defenses.
It will require great discipline from the Panthers on defense to stop and get Redmond's offense off the field.
"Redmond is a team that is incredibly well-coached," Hedrick said. "They have an offense that you just don't see. Dallas' offense is problematic enough. Redmond's is almost twice as complicated as what Dallas runs. I'm always glad we only play Dallas once a year. Now we have Redmond and trying to duplicate and see the people they bring in misdirection plays and how many times they hand the ball off in the backfield, we have our work cut out for us."
If Central wins, the Panthers advance to play the winner of No. 7 St. Helens versus No. 2 Wilsonville in the state semifinals on Nov. 18.
"We'll practice like we would for any other day," Hedrick said. "We'll fill the evening schedule a little bit more, maybe have a couple dinners together where we aren't coaches and players anymore. We're just human beings having dinner, and we are on equal ground. It's nice."