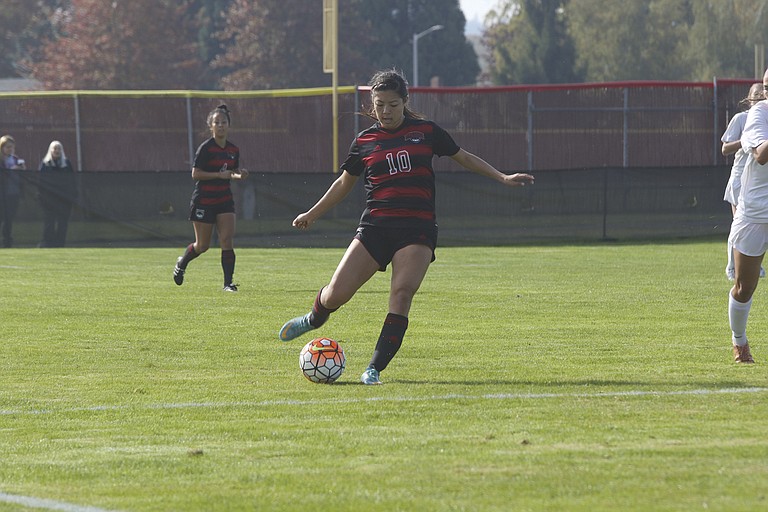 Wednesday, August 17, 2016
/lk
MONMOUTH — Throughout his tenure, Western Oregon soccer coach Steve Ancheta has experienced just how difficult it can be to build a program in the Great Northwest Athletic Conference.
During his five seasons, he's led the Wolves to the conference tournament twice, advancing to the semifinals in 2013.
But the Wolves finished 8-8-1 overall and 4-7-1 in GNAC play in 2015, missing the GNAC tournament for the second year in a row.
"We have to work hard and push to challenge those top teams," Ancheta said. "There's no slouch in our league. There's no room to take a day off."
WOU is out to stop that trend — though it won't be easy.
Western Oregon will need to find new scoring options after losing its top two goal scorers — who were responsible for 11 of the team's 25 goals — from a season ago to graduation.
The Wolves will rely on a group of returning seniors to pick up the slack.
"I like my core group of seniors coming back that have been around me for a long time," Ancheta said. "They're setting the tone early and we're excited to get out there."
Seniors Taylor Higa, Dani Payne and Mariah Konyn will anchor the midfield with Savannah Bogan assisting on the attack.
Senior midfielder Dani Payne and defender Allison Sprecher will also play a key role for the Wolves.
"They are some quality girls who will have some opportunities to play some minutes for us," Ancheta said.
With a little over two weeks from the start of official practices on Monday until the team's first match on Sept. 1, the challenge is greater than simply adjusting to new team roles or bringing along new faces on the field.
Just as important is developing the relationships between players — no easy task given the short period of time before matches begin.
"We have to make sure we're all on the same page," Ancheta said. "You can't just focus on the soccer ball. We have to work hard and develop that chemistry — that's the big key is having quality team chemistry from the get go."
Finding that chemistry could be the difference between a return to the conference tournament and another season of going home early.
"We're going to put out a good product," Ancheta said. "We have athletes who love to work and feel good about the jersey they're putting on. We'll fight every match for what we deserve."