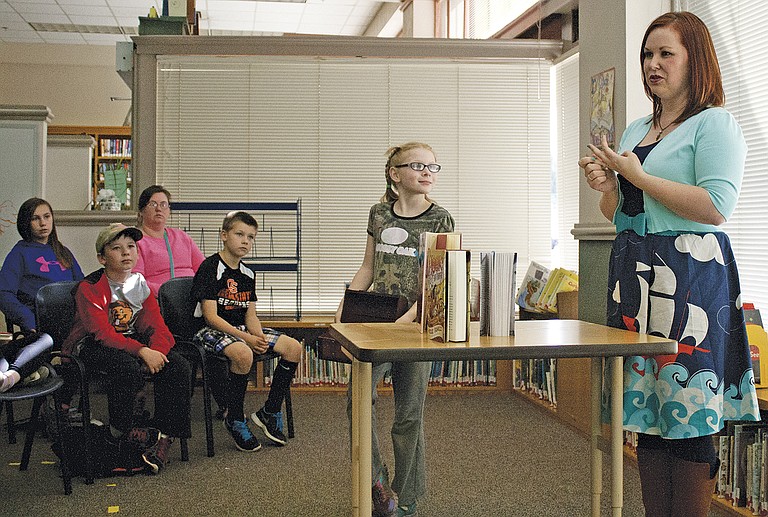 Thursday, April 21, 2016
/lk
DALLAS — Notice anything different about the Dallas Public Library recently?
If you have, it's by design.
With support and assistance from the library board and the Friends of the Dallas Library, staff has developed programs to inspire people of all ages to pay a visit.
The popular adult coloring night, a series of Oregon author talks, a unique "storytelling" festival and a revived teen program are among the programs that aren't necessarily just about checking out books.
Cari Richey, the chairwoman of the library board and president of Friends of Dallas Library, gives credit to Dallas City Manager Ron Foggin and Library Director Mark Greenhalgh-Johnson for envisioning the library as thriving, not simply surviving.
"He (Foggin) and Mark saw the same vision. One of the reasons why I joined the board was because I did too. I didn't want to see libraries die," Richey said.
Far from dying, the library, which began keeping track of visits, is seeing more people come through the doors, Richey said.

"I cannot give the staff enough kudos. They work really, really hard. They are dedicated and willing. They are just super," Richey said. "I really give Mark tons of kudos for what he's done."
Dallas Library's new hours
Dallas Library's new hours
Starting May 2, the library will have expanded operating hours.
The new hours are:
• Monday, Tuesday, Wednesday — 10 a.m. to 7 p.m.;
• Thursday and Friday — 10 a.m. to 5 p.m.; and
• Saturday — 10 a.m. to 3 p.m.
• Closed Sunday.
She added that's required a willingness to change perspectives on the role libraries should serve in their communities, something Richey admits struggling with at times.
She said activities such as author visits and story time seem more about "entertaining people" than reading books.
"You have to change your thinking and your outlook," she said.
That goes for the Friends of the Library, too.
The group is contemplating changing the time it does its book sale from Dallas' annual Summerfest celebration to holding two: one in spring and another in the fall.
It held its spring sale the first weekend in April.
"We were real pleased," she said. "We thought we had a really good turnout."
The sale didn't make as much money as last year's Summerfest sale, but that was expected as it was shorter.
Holding a sale during Summerfest has its advantages, including pulling in more visitors from out of town.
"We are still debating that," Richey said.
She said the group has long-term plans modeled after what other friends of library organizations have done: opening a year-round book store.
"That's our vision, to eventually have a book store, which I just think would be so cool," she said.
Those plans are just beginning, and she hopes it will be another addition to an ever-expanding lineup at the library.
"We will see," Richey said. "There are always new things on the horizon, which I think is terrific."
For more information on library events and programs: go to ci.dallas.or.us/library.