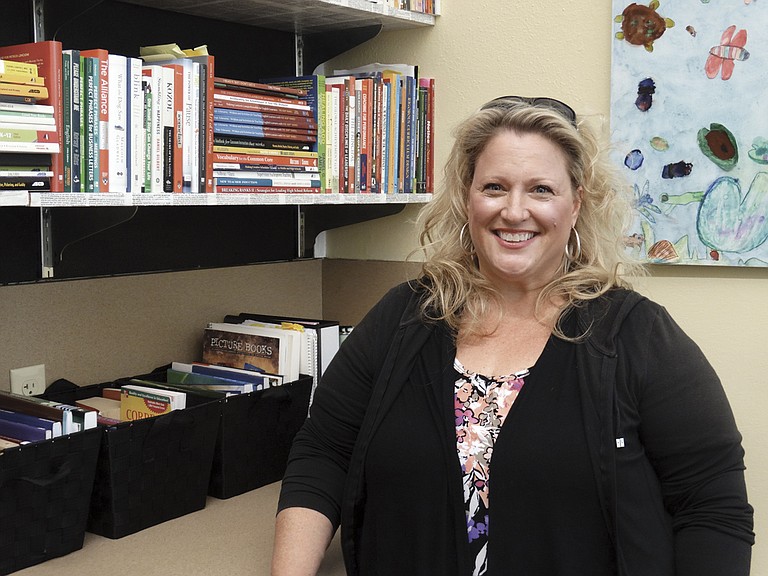 Wednesday, September 9, 2015
/lk
INDEPENDENCE — Sharman Ensminger-Stapp believes education starts at the top and trickles down to change the lives of children.
The new principal at Independence Elementary School spent 14 years as a teacher for grades K-12 before stepping into administration. She said there are many similarities between a teacher and an administrator.
"It is all about kids," Ensminger, 44, said. "I believe in that work (teaching) being a game changer. That transformational work that can change the trajectory of a kid's life. The difference (between a teacher and principal) is your sphere of influence."
As a teacher, that sphere is limited to a classroom or grade level. As principal, Ensminger can support the entire system.
She starts in her office, remodeled after Steve Tillery left the post last year.
"I really want this to be a thinking space," Ensminger said. "Every day we tell our children to take risks and to grow and to learn, but my job is to do the same for teachers and create the space where they can explore and challenge their own learning and take risks, because that's how they become game changers and better their practice."
Ensminger comes to Central after having worked in school districts on the coast and in the Willamette Valley, including Tillamook, Hillsboro, Forest Grove, Beaverton, Lincoln County and Gervais.
Most recently, she spent five years as an elementary principal in Gervais.
"What really drew me here to IES was just this real sense of heart and community," Ensminger said. "I am also really passionate about school improvement work. I know there are a lot of really good things at the district level that we're ready to move forward with."
Ensminger said she is excited to learn more about the core purpose of IES and help define and shape that. With a lot of new faces — from teachers to secretaries to the principal herself — some changes at IES will happen organically.
"It's going to be us really coming together and building on what I know is really solid here, that is that heart and commitment to team," she said. "I'm really excited to lead that and be part of that process."
Ensminger said her top concern — in addition to student learning — is having a safe campus. She said that is the absolute baseline.
"It's definitely a high priority … to have a space where kids are safe, and a campus where we have really good safety procedures and protocols," Ensminger said.