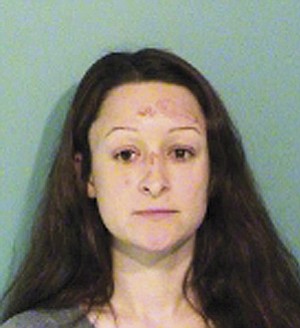 Wednesday, May 13, 2015
/lk
DALLAS — Maura Olsson, 36, was arraigned Monday afternoon in Polk County Circuit Court, charged with eight crimes, including second-degree kidnapping, for an incident on Thursday.
Olsson was arrested on Friday near the city of Coquille where she was at a friend's house.
Monday, Olsson was charged with first-degree robbery, a Class A felony with a maximum 20 years in prison and $350,000 fine, second-degree kidnapping, unauthorized use of a motor vehicle, menacing, first-degree theft, pointing a firearm at another, harassment and unauthorized use of a weapon.
At about 3:15 p.m. on Thursday, Polk County deputies responded to a report of Karen Pangburn calling for help in the roadway in the 16000 block of Bridgeport Road outside of Dallas. Pangburn reportedly had duct tape over her mouth and wrapped around her head.
She alleged that her daughter, Olsson, had taken her at shotgun-point from her travel trailer in the backyard into the main residence, where Olsson lives with her husband and their two children.
Pangburn said it was in the main residence where Olsson allegedly duct-taped her to a chair in the dining room and stuck her in the back of the head with a shotgun.
Olsson allegedly stole $1,000 in cash, a cellphone and a 1997 green Toyota Camry from Pangburn and headed south.
Friday, an Oregon State Police trooper pulled the car over and noticed the driver was acting suspiciously, Polk County Sheriff Lt. Jeff Isham said.
"It ended up being her (Olsson's) husband," Isham said. Olsson's husband led Coos County Sheriff deputies to Olsson's location. Polk County deputies took custody of her there and lodged her in Polk County Jail.
Isham said no drugs were involved in the incident.
Olsson is being lodged in Polk County Jail on $250,000 security. She was appointed an attorney from Chris Lillegard's office. She is scheduled to appear in court at 1:15 p.m. on Thursday.