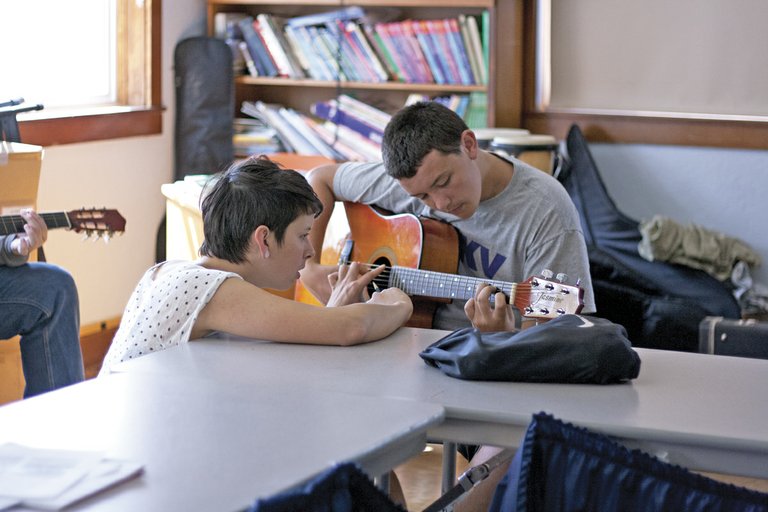 Wednesday, September 24, 2014
/lk
FALLS CITY — Take the stairs down to the multiple-purpose room at Falls City Elementary School at a certain time of day and you will hear what sounds like joyous thunder.
It's a drum circle — played by students — sending its rhythmic sound throughout the building.
It's an uplifting development for students and staff alike: music education has returned to Falls City School District.

"Those halls have been silent for years," said Superintendent Jack Thompson.
Not any longer.
Thanks to a partnership between Portland-based music education nonprofit Ethos and AmeriCorps, which provides grant funding for the program, Falls City now has music classes in both of its schools.
"The classes are starting to get a little bit of buzz around school," Thompson said. "It's kind of fun. Most of our students have no concept of music except for what is playing in their iPod."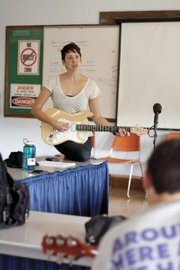 Kaylee Bonatakis, the new music teacher placed through Ethos, plans to change that.
She's leading five classes a day: three introductory music sessions at the elementary school and two music appreciation classes at the high school.
None of the students in Falls City schools have experienced music education as part of their regular schedule — it hasn't been part of the curriculum in three decades — but they are quickly becoming engaged.
"Mostly, it has been really positive," Bonatakis said of the student response to the classes. "I think most everybody is excited, but a little unsure."
She explained some of the older students — middle school- and high school-age — are still trying to figure out "if it's cool."
Younger students, however, are almost universally eager to learn.
"The younger kids, every single day I see them, they always ask me if their music class is today," Bonatakis said. "They look forward to coming, which is nice."
Bonatakis said her love of music began in her early school years.
"I went to an elementary school that had a really strong music program, which encouraged me to continue on through middle school, so I joined the middle school band," she said.
She became a percussionist and continued pursuing music through college, earning a master's degree in music performance.
Now in her second school placement through Ethos' rural outreach program, Bonatakis is trying to provide that same experience for students in Falls City.
"I think the younger you can (begin), the more open they will be later in life," Bonatakis said. "They are just good skills to have. I think if you learn to read music as an elementary student, even if you don't keep with it, it's valuable knowledge to have later in life."
At the high school, students are learning to play guitar in the rock music appreciation class and exploring non-traditional and electronic music styles in world music appreciation.
"We've looked at a lot of different types of music," Bonatakis said. "I'm trying to challenge their ideas of what music is."
Draven Pelkey, a sophomore in the rock appreciation class, said he took lessons when he was younger and couldn't wait to play guitar again.
Pelkey sees music as more than just entertainment.
"It provides a better way to communicate," he said. "You can say how you feel better with the songs you write and play."
Her hope is inspire more of that connection with music, but for now Bonatakis is simply creating a foundation and allowing students to explore music — beyond their iPods.
"Really, anything goes," she said. "I'm just trying to expose them to anything and everything."