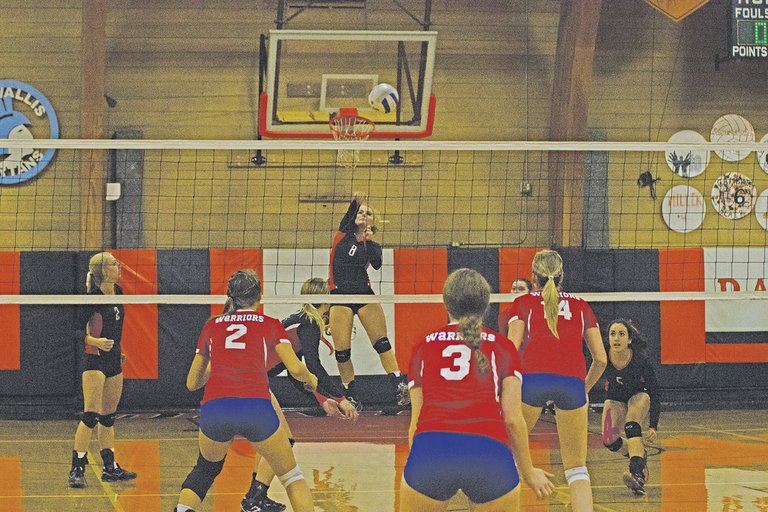 Wednesday, October 1, 2014
/lk
DALLAS — Facing the Mid-Willamette Conference's top teams, Dallas (3-3) lost a pair of league matches falling to Crescent Valley 22-25, 25-20, 25-21, 25-12 on Sept. 23 and Lebanon 25-7, 25-12, 25-9 on Thursday.
"At Crescent Valley, we won the first game and hung with them until game four and we just crumbled," Dragons coach Shana Lavier said.
Individual stats were not available, but Lavier said Dallas showed signs of its potential.
"I was very pleased with our defense and our blocking is getting better," Lavier said.
The key will be finding a way to continue playing at a high level without any emotional or physical letdown, Lavier said.
And although the Dragons showed in flashes against Crescent Valley that they can compete with the league's best, Dallas must find ways to exploit opportunities on a consistent basis to succeed as the Dragons enter the second half of the regular season, Lavier said.
"We need to be able to capitalize on the other teams' weaknesses better than we have been able to do so far," she said.
PIRATES WIN THREE OF FOUR: Perrydale (8-2 overall) won three of four matches last week. The Pirates opened with a 25-19, 25-18, 25-17 win over Regis on Sept. 23. The Pirates lost their only match of the week on Thursday, falling to Central Linn 22-25, 29-27, 24-26, 25-16, 15-9. Perrydale recovered by beating Damascus Christian 25-21, 25-23, 26-24 and Sherman 25-15, 25-13, 25-14 in nonleague play. Sarah Nelson had five aces against Sherman, while Madison Perkins had nine kills. Kolbie Calonder recorded 18 assets against Sherman. Pirates coach Denise Dickey said the squad is close to putting it all together, and when it does, Perrydale will be a force to be reckoned with. "If we can get our offense caught up to our defense, I feel good things will come our way."
CENTRAL DROPS LEAGUE MATCHES: Central (0-6 MWC) dropped a pair of league matches, falling to Silverton 20-25, 25-21, 25-21, 25-19 on Sept. 23 and Corvallis 25-22, 25-19, 25-21 on Thursday. The Panthers also competed at the Parkrose Tournament, beating Portland Christian 26-24, 25-10 before losing to The Dalles 14-25, 27-25, 15-13 on Saturday. No details were provided. Central played at Woodburn Tuesday after press time and hosts South Albany on Thursday. The Panthers also play at Dallas Monday at 6 p.m.