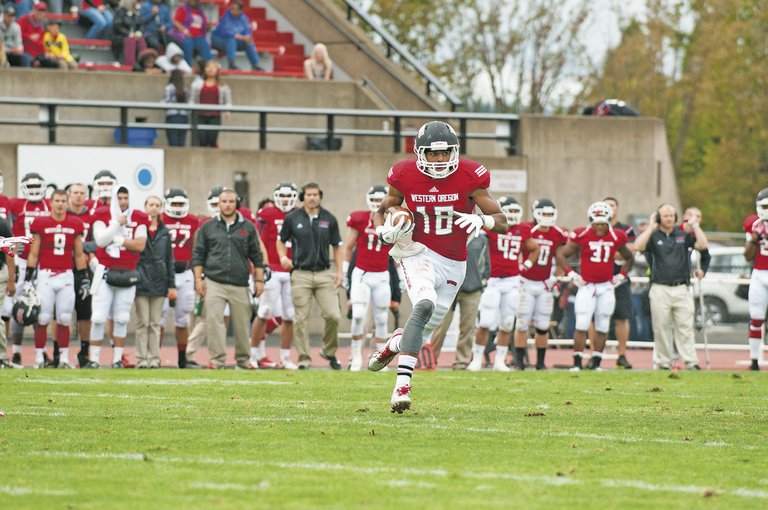 Thursday, August 28, 2014
/lk
MONMOUTH — Western Oregon quarterback Ryan Bergman, running back Joe Harris and wide receiver Tyrell Williams know a thing or two about offense.
The trio helped the Wolves set five school records in 2013 — passes completed (234), passing yards (3,241), total yards (4,534), passing first downs (139) and total first downs (229) — as Western Oregon led the Great Northwest Athletic Conference in scoring at 30.4 points per game.
"We know our potential and how good we can be," Bergman said. "We have a lot of talent returning and we can put up some even bigger numbers (this year)."
That could be a scary thought for opposing defenses.
The Wolves return six starters on offense, including Bergman, who threw for 27 touchdowns last season.
While he is just 162 yards shy of becoming the seventh quarterback in program history to throw for more than 4,000 career yards, he's just coming into his own.
"My goals are to get better mentally and understand the offense more," Bergman said. "I got more comfortable with throwing it on the run and at reading defenses quicker."
Bergman's top target, Williams, returns after leading the Wolves in receiving yards and touchdowns in 2013. But he's also helping to mentor a receiving corp that includes eight underclassmen, giving Bergman a variety of targets to throw to.
"I wanted to make sure my speed got better and I just got bigger and stronger," Williams said. "We have a lot of young receivers. I think they're good players and I am excited to see what we can do. They're hungry to get out there."
Harris recorded the eighth-most all-purpose yards in the GNAC in 2013, rushing for a team-high 672 yards while hauling in 273 receiving yards and scoring eight total touchdowns. He gives the Wolves a threat on the ground and through the air.
"We have some superb athletes that you don't usually see around the GNAC too often," Bergman said. "We just want to get the ball in their hands and make some things happen."
The number of weapons available on offense is making the Wolves even more dangerous and one of the GNAC's most prolific offenses once again.
"Ryan is a very accurate passer," WOU coach Arne Ferguson said. "Tyrell is having the best camp he's ever had. He's done a tremendous job catching and accelerating out of his breaks. Joe Harris is doing some good things as well. We have a very well-balanced offense."

Defense
It's a memory that haunts Western Oregon: 12 points. That's all that separated Western Oregon from defending GNAC champion Azusa Pacific in two losses during the 2013 season. Linebacker Shane Kuenzi never forgot that total.
"If you add up the points in the key losses we had, that's how much we lost the conference championship by," Kuenzi said. "We're going to get those points back."
Kuenzi leads six returning defensive starters after posting 105 tackles last season.
After bulking up, Kuenzi is ready to take his game to a new level.
"I worked on my pass coverage," Kuenzi said. "I gained a little more weight and feel more capable of taking on those bigger players."
The Wolves gave up 26 points per game last season. Thanks to an experienced secondary and a defensive line anchored by Kraig Akins, who recorded eight sacks in 2013, players are expecting that number to be dramatically lower due to offseason workouts.
But while Akins and Kuenzi have gotten most of the attention, defensive linemen Jeremy Moore and George Swartzlender are ready to have a big year for the Wolves this fall.
"Jeremy is a really good player," Ferguson said. "George is also progressing well early, giving our defensive line a big boost."
Ferguson is hoping the emergence of Moore and Swartzlender will give Western Oregon one of the conference's most fearsome defensive fronts. But for the players, the thought of 12 points will never be far from their minds.
"We know how close we came to winning that conference title last year," Kuenzi said. "This year, we'll be ready to get the stops we need."