Tuesday, November 6, 2012
/lk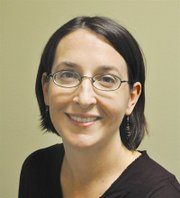 MONMOUTH -- The Luckiamute Watershed Council will introduce its new council coordinator at a meeting Thursday at 7 p.m. at Volunteer Hall in Monmouth.
New hire Kristen Larson will provide an overview of her orientation and recommendations developed for the current transition.
The regular board meeting will follow the presentation.
Larson will handle council management and administration, write grants and facilitate participation by landowners in watershed projects. She'll also oversee volunteer recruitment to support restoration and Japanese knotweed control projects in the Luckiamute State Natural Area and the Model Watershed program in Kings Valley.
Larson has bachelor's degrees in biology and environmental science, and completed a professional science master's program at Oregon State University in environmental sciences.
She worked as a volunteer for the Marys River Watershed Council and interned with the Long Tom Watershed Council in Benton County.
LWC's monthly meetings are at 7 p.m. on the second Thursday of each month at Volunteer Hall, 144 S. Warren St. in Monmouth.
For more information: www.luckiamutelwc.org.