Wednesday, May 25, 2011
/lk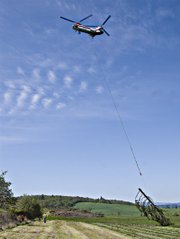 POLK COUNTY -- A Boeing Vertol helicopter isn't normally the kind of bird one looks for at the Baskett Slough National Wildlife Refuge.
But it's still an interesting sight.
For two days last week, the tandem-rotor aircraft, owned by Aurora-based Columbia Helicopters, soared above tree tops on the North Butte. David Horrax, a forester for the company, watched as Douglas fir felled the previous winter from a woodland on the refuge were dropped into neat stacks.
For Columbia, it's just another logging job, Horrax said. For the inhabitants of the refuge, it's a bit more.
Nearly 1,000 trees -- some as tall as 100 feet -- were removed as part of an effort by U.S. Fish and Wildlife Service (USFWS) to restore dwindling white oak savanna.
The work centered on about 40 acres of federally-owned land on the north side of the refuge and a portion of private property with a Nature Conservancy easement to the immediate east.
Establishing savanna here will improve the habitat of several birds and wildlife species -- including the endangered Fender's blue butterfly -- and create a corridor for populations between the two parcels, said Jock Beall, a USFWS biologist and project manager.
"It's a work in progress that happens in small steps," Beall said. "But it will be pretty satisfying over time, when the birds and wildlife respond to it."
The agency has done savanna restoration work at Finley National Wildlife Refuge south of Corvallis for several years. It's been "piecemealed" at Baskett Slough as funding becomes available, Beall said.
This particular thinning operation started last winter. USFWS officials marked savanna boundaries and selectively cut down tall fir, cherry and maple trees.
Because of steep terrain and a lack of access roads for hauling, the only way to move the trees off the butte was by helicopter, said John Gahr, Baskett Slough refuge manager.
"Next, we'll grind stumps so we can get mowers out," Beall said. "We'll do reseeding with native grasses and plants."
Once spread throughout low-lying areas and the foothills of the Willamette Valley, oak savanna ranks as one of the state's most endangered ecosystems today, Beall said.
They're characterized by a sparse distribution of mature oaks on grassland, with the canopy spaced between 50 to 350 feet apart, Beall said.
There are approximately 500 acres of native oak and prairie habitat at Baskett Slough, with most of the best examples of oak savanna on the south side.
On the refuge, its value is in enhancing natural diversity.
"It supports a different suit of birds," Beall said, noting white-breasted nuthatch, acorn woodpeckers and western bluebirds favor this landscape.
Beall guessed that the decline of the valley's oak habitat began around 1850, with agricultural development and a reduction in regular controlled burns that would have kept grasses open and took out oak seedlings to prevent high tree density.
The spread of Douglas fir into oak woodlands also hurt. Beall said fir will eventually "overtop" oak, shade them out and kill them.
The removal of the trees will do more than enhance nature on this refuge. Beall said the logs will be given to the Portland Water Bureau for restoration in the Bull Run Watershed.
A similar cooperative project may end up happening for the Rickreall Watershed in the future, Beall said.