Tuesday, December 20, 2011
/lk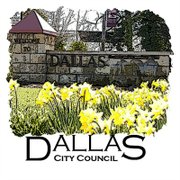 DALLAS -- Big changes may be in store for the 800 and 900 blocks of Main Street in downtown Dallas.
Dallas Urban Renewal Agency plans would give the two block stretch running from Mill Street to Washington Street a dramatic face-lift.
The Dallas Urban Renewal District Advisory Committee has been working on plans for the last four or five months, said Jason Locke, the Dallas community development and operations director, in a report to the agency's board of directors -- also the Dallas City Council -- Monday night.
Locke said the goal of the project is to offer "a balance between cost, functionality, ease of maintenance, (and) providing an attractive pedestrian, auto and bicycle atmosphere."
Conceptual plans include widening sidewalks, installing rain gardens, pervious concrete and street furniture.
Locke said the urban renewal agency will seek public input on final plans for the project from residents, building owners along the stretch, and other stakeholders. Once final plans have been approved, the urban renewal agency will have to seek financing for the project, slated to cost $600,000 to $700,000.
Locke said the urban renewal agency may pursue state infrastructure loans, as well as lines of credit from local banks.
He said due to the extensive nature of the project, the agency intends to take its time with planning.
"It's not something we will rush into," Locke said.
In other business, the council:
* Approved an evaluation and one-year contract extension for City Manager Jerry Wyatt for 2012. Wyatt received no adjustment in salary for the year, but was granted 56 hours in extra paid leave. The council met in executive session to discuss Wyatt's evaluation and returned to regular session to vote on the contract extension. It was approved unanimously.
* Due to the New Year's holiday, the Dallas City Council's next meeting will be moved to Tuesday, Jan. 3, at 7 p.m. Meetings are held at Dallas City Hall, 187 SE Court St.