Wednesday, May 12, 2010
/lk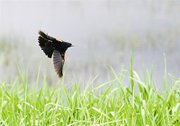 POLK COUNTY -- The U.S. Fish and Wildlife Service will host its "Birds and Butterflies" event on Saturday, May 15, at the Baskett Slough National Wildlife Refuge.
The event will recognize the habitat restoration efforts that have occurred on the refuge for the endangered Fender's Blue butterfly population, and focus on the importance of pollinators to flowering plants.
From 8:30 to 10 a.m., attendees can learn about local birds from birding experts. Crafts and activities are planned from 10 a.m. to 2 p.m. And there will be guided nature walks on the refuge from 10:30 a.m. to 12:30 p.m.
The event is free.
To get to Baskett Slough, turn west onto Coville Road from Highway 99W, 2 miles west of the Highway 22 junction.
For more information: 541-757-7236; visit www.fws.gov/willamettevalley/baskett.