Wednesday, July 21, 2010
/lk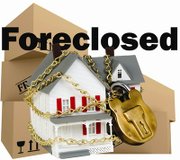 POLK COUNTY -- One of the signs of Oregon's recession, people trying to avoid losing their homes, isn't improving in 2010.
And while the crisis doesn't appear to be as severe in Polk County as other places in the state, it's still a major problem.
"Several years ago, looking through the paper, you might have seen one or two pages of foreclosure notices," said Chris Larsen, a Monmouth City Councilor and president of the Polk County Association of Realtors. "Now, it's like five or six pages
."
According to the Oregon Community and Housing Services Department, the state had about 22,500 loan foreclosures or serious mortgage delinquencies as of January this year. That's up from the 15,500 from the same period in 2009.
That data -- which originates with the Federal Reserve Bank of New York -- is considered "point-in-time" -- meaning the loan status may have ultimately changed for the better.
"It is difficult identifying exact numbers, but the trends are quite clear in Oregon," said Bill Carpenter, an analyst for the agency. "The number of foreclosures has been rising rapidly."
About 5 percent of mortgages in Oregon in January were in some degree of foreclosure, Carpenter said.
OCHS published a report in June noting 20 counties with the greatest portions of foreclosures and delinquencies in 2009. Polk County didn't make that list, with a rate of 4.4 percent or 379 loans.
"Polk County is doing better, but still not great," Carpenter said. "The county rate has gone up 2.3 percent" since July 2009.
According to the Polk County Assessor's Office, 18 percent of the 1,500 property sales that took place between January 2009 and March of this year were lender foreclosures.
"I think we'll probably see some additional foreclosures," said Doug Schmidt, county assessor. "How bad it will be, I don't know."
Of the county's foreclosure statistics, Schmidt said West Salem and Independence showed the greatest percentage of foreclosure sales.
Sgt. Rick Igou of the Independence Police Department said code enforcement personnel have seen the number of code enforcement cases involving foreclosed homes left empty and unmaintained rise.
"We have to jump through hoops to contact people for cleanup, because no notes are posted indicating the owner," Igou said.
Larsen, a real estate broker for Windermere, said the number of foreclosures and low-buyer confidence has yielded an 8«-month supply of homes in the mid-Willamette Valley.
"When the federal tax incentives ended (in April), we saw a reduction in foot traffic and phone calls," he said.
OCHS published a report in June noting 20 counties hardest hit by foreclosures, with vacation home sites along the coast and in Central Oregon faring the worst. Deschutes County, for example, ranked second with a 9 percent foreclosure rate.
The state will try to offer relief to individuals struggling to hold onto their homes with the Oregon Homeowner Stabilization Initiative this fall, which would see the dispersal of $88 million in U.S. Treasury funds to applicants.
Oregon's foreclosure problems are tied to its high unemployment rate, according to OCHS.
That figure sits at 10.5 percent, according to information released by the Oregon Employment Department last week.
Larsen said that much of the county's job base in state jobs in Salem or at universities in Monmouth and Corvallis has helped "insulate" it from high foreclosures.
"Government jobs are usually more stable," he said, quickly adding, "then again, Oregon has some 9 percent cuts coming down."
Polk County has an unemployment rate of 9.1 percent, down slightly from 9.9 percent in October.
"It's still very high compared to what Polk has historically experienced," said Pat O'Connor, OED regional economist. "It's been tough with the whole RV transportation industry down and Weyerhaeuser's closure."
"So, you can imagine if a household went from bringing into $3,000 to $4,000 a month to bringing in $1,500 a month," he said. "Depending on what the situation with your home is, that will strain you."