Tuesday, November 4, 2008
/lk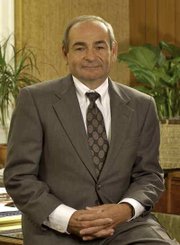 MONMOUTH -- Western Oregon University wants to establish a satellite campus in Salem in the next couple of years -- and it could happen if a development deal to which they're a party happens.
The university has committed to becoming a tenant in a proposed commercial/residential complex atop the Marion Parkade in Salem's downtown area.
The project hinges on a deal between Marion Park, LLC and the city of Salem, which are trying to hash out a lease agreement.
Western President John Minahan said that part of the property would be allotted for office and classrooms for international scholars programs and graduate-level studies, and as residences for students from abroad.
If at some point the nursing program outgrows its current facilities in Monmouth, some of those operations could be expanded in Salem, Minahan added.
Marion Park representatives are seeking to complete a master lease agreement with Salem by Dec. 15, said Rick Scott, director of the city's urban renewal department.
The project would see three stories erected on top of the parkade, Scott said. Western would occupy about 6,500 square feet of classroom space and 18 living units.
A best-case scenario would see the school move into the building by early 2010. Minahan said the cost to Western wouldn't be known until the developers and Salem reach an agreement.
Western has been hunting for opportunities to lease property in Salem for five years for a couple of reasons, Minahan said.
First is the price of new capital construction. Anything built on the existing campus would be a state-owned structure, for which the university would be obligated to cover half of the cost, he said.
"A new building would be in the order of $20 million to $30 million and to raise money would take a long time," Minahan said. So "leasing is a reasonable option.
"But, guess what?" he continued. "There's nothing in Monmouth to lease with the size and complexity we need."
School officials looked at riverfront property and the site of the old Capitol Hotel for lease, but deemed them too expensive.
Then Marion Park developer Kevin Lafky "came to us and said he had a great idea," Minahan said.
Growth of the international student program and Oregon Health Sciences University's new nursing school are other factors contributing to the need for a Salem site, Minahan said.
Western wants to place health-related master's programs in the redeveloped building, partly because of the proximity to Salem Hospital. An understanding exists in which the hospital would provide scholarship support to students interested in working in Salem and "take as many students as we can graduate," Minahan said.
As the number of international students now attending Western has grown to 300, the amount of available on- and off-campus housing for students has diminished. As such, there are 50 international students who had no choice but to find rentals in Salem and commute to school this year, Minahan said.
With the proposed building, students would be able to choose which campus to live at, Minahan said.
Weiwei Zhang, a recent Western graduate from China, said she enjoyed Monmouth, but added that many of her international peers longed for more dining and shopping venues.
"I think there is a good amount of students who would like to live in Salem," she said, "where they would have more fun in life."
As far as what the proposal means for Monmouth, Minahan said the project is not a sign that the university is "forsaking" its home base.
He noted plans for a new student recreation center off Jackson Street and an additional residence hall.
"We intend to continue growing our undergraduate programs here," he said.