Tuesday, May 29, 2007
/lk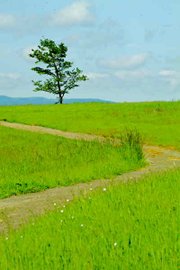 POLK COUNTY -- Since their deaths on Sept. 11, 2001, the 45 passengers of ill-fated United Airlines Flight 93 have been remembered across the nation for their courage and defiance in the face of terror.
Richard Guadagno, who was among a group that stormed the cockpit to wrest control of the plane from hijackers, received a posthumous valor award from the Department of the Interior. A federal building in Eureka, Calif., was named for him, and he was portrayed in a 2006 film about the events leading to the plane's crash in Pennsylvania.
Lori Guadagno, Richard's older sister, sometimes wonders if her brother might have seen it all as too much fuss.
"Richard was so low-key," she said from her home in Florida. "Honestly, I think he would have been incredibly embarrassed about all the attention."
He may have been tickled, however, to know that a little nature trail that traverses part of the Baskett Slough National Wildlife Refuge, which he once managed as a U.S. Fish and Wildlife Service employee, would someday bear his name.
On June 2, USFWS will hold a public ceremony to re-name the 1.5 mile Baskett Butte Loop. It will be the Richard Guadagno Memorial Trail. (See details at bottom of story.)
It will compliment the viewing platform that was erected on top of Baskett Butte - offering an expansive view of farm land, marshes and foothills of the Coast Range - in Richard's name a month or so after Sept. 11.
On Saturday officials will also commemorate the path's recent designation as the 1,000th National Recreational Trail in the United States
Representatives from the National Park Service, USFWS and other agencies will speak about the efforts of Guadagno and others in transforming the refuge into a thriving wildlife habitat.
"Out of all the honors he has received ... he would have been so incredibly proud and touched by this," said Lori Guadagno, who will also speak at the event.
She added that the refuge and his work there "was the stuff that mattered to him. Of all the places where his spirit still resides, I think it would be felt here the most."
"He really loved the area."
An avid gardener, guitar player and artisan, Guadagno spent eight of his 17 years with USFWS managing Baskett Slough and the Ankeny NWR in Jefferson.
He grew up near Trenton, N.J.. His parents, Jerry and Beatrice, encouraged their two children to explore nature. Young Richard obliged by nurturing plants, studying insects, and engaging in other outdoor pursuits.
His conservationism manifested at an early age, Lori Guadagno said. She recalls a family outing at a restaurant along the Jersey Shore when Richard was about 7 years old - and his reaction to finding frogs legs on the dinner menu.
"He was horrified and refused to eat there," Lori Guadagno said. "I think the rest of the adults there thought it was adorable ... he just couldn't handle anything that was cruel toward nature."
After graduating from Rutgers University in 1984, Guadagno was hired by the USFWS and worked at refuge systems in Pennsylvania, Delaware and New Jersey.
A short stint in Washington state early in his career made him hungry to move to the West Coast, said Jim Houk, project director for the Willamette Valley National Refuge Complex and Guadagno's former supervisor.
Guadagno was hired in 1992 and charged with managing the day-to-day operations and public use programs of Baskett Slough and Ankeny.
The 2,500-acre Baskett Slough was primarily a working rye grass farm and winter destination for dusky Canada Geese when it was established in 1965.
Guadagno and his staff were involved in a major "overhaul" of the area during the 1990s, Houk said. They did controlled burns to remove blackberry and other invasive plants, replanted native vegetation and restored more than 600 acres of shallow wetlands.
"Those years turned Baskett Slough around to a point where there are populations of endangered species, like Fender's blue butterfly, now recovering," Houk said.
The trail loop that includes the summit of Mount Baldy was a favorite spot for Guadagno, he said.
Richard invested much effort into improving its landscape and then-crude foot trail, and was instrumental in adding parking lots, interpretive kiosks to the refuge and an observation platform off Highway 22.
Last year, the refuge drew more than 160,000 visitors, Houk said. The revitalization has led to a national trail designation by the National Park Service and USDA Forest Service.
"For those of us who have been involved, it's quite an honor to see how it has flourished," Houk said. "We have had a lot more visitation. It has brought in more bird species, and a large part of that is due to Rich's efforts."
Baskett Slough was Guadagno's home during his eight years in Oregon. He lived in a caretaker's house on the site, and spent his off-hours doing home-improvement projects and tending to his garden, "which produced massive amounts of vegetables," Lori Guadagno said.
And he was ever-protective of the refuge. His sister can remember his anger during a period when somebody was shooting up kiosks and signs. Guadagno spent hours of his own time surveying the area, hoping to stumble onto the shooter. One evening, during one of his seven-mile jogs, he happened upon the culprit and arrested him - without a badge or gun.
"Part of me jokes about that ... I was thinking he'd lost his mind," Lori Guadagno said. "But that's the kind of conviction he had."
In 2000, Guadagno left Oregon to take a job as a project leader at Humboldt Bay NWR in Eureka. But he stayed in touch with friends at Baskett Slough and Ankeny up until his death at age 38.
"This was the place he loved the most ... his heart was here," Houk said. "Looking around the refuge today, it shows."
--
A dedication ceremony for the Richard Guadagno Memorial Trail will begin at 4 p.m. on Saturday, June 2, at Baskett Slough National Wildlife Refuge on Coville Road west of Rickreall.
Before the dedication, from noon to 4 p.m., the Friends of the Willamette Valley National Wildlife Refuges will host bird and butterfly walks, excursions in the wetland areas, and other activities for the public.
For more information: Chantel Jimenez at 541-757-7236.